"Fantastic! Only in Viet Nam!" – that was the comment from David, an Australian tourist, about the motorbike taxi team for tourism in the foggy city Da Lat.
That is a special riding team of 78 members undertaking long-time tours through Viet Nam, some of which are roughly a month. All of them are very fluent in English. Some can even speak German, or French. The team also owns a quite 'western style' website: www.dalat-easyrider.com.vn
The outstanding figures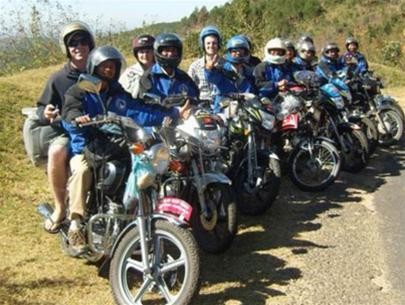 The motorbike taxi team for tourism in the foggy city Da Lat(Photo:TTO)
It is quite difficult to arrange a meeting with these motorbike riders as at this time they are on Hon Khoai Island of Ca Mau Province, another time they are exploring Nguom Ngao Cave of Cao Bang with tourists.
At last, we scheduled a meeting with them, not at a certain street corner or sidewalk, but at a deluxe café specialized in serving foreigners on Phan Dinh Phung Street, Da Lat City. 'Rocky' Thien, a member of the team, told us while busy with his computer, "Our daily task is to check our e-mail and Web site to give advice as well as to accept booking requirements of tourists to any places in Viet Nam."
"At first, we were quite afraid when encountering foreigners since we are only good at their languages, not at cultural and historical knowledge of Viet Nam or other countries. However, because of the urge to earn our living as well as our passion for traveling, we trained ourselves in those fields and our tourism competence, thus becoming very professional", rider An said.
Rides take tourists to Dac Lac, Nha Trang, Phan Thiet, and Ninh Thuan and help them get accustomed to the job. Their salary is now more than enough for the daily needs of their family. The team operates in an orderly way with a captain, a vice-captain, a discipline board, a financial board, and a money keeper. 'Rocky' Thien said, "They are solely to ensure an effective operation. They take no salary for these tasks."
'Rocky' Thien was born in 1979 and got acquainted with the job of a taxi motorbike rider when he was still a tourism student at Da Lat University. From a part time job, it has become his main pursuit until now. Other team members from different areas have done various jobs before: 'Rocky' Thien used to be the owner of two restaurants, Mr. Duong was once a soldier, Mr. Long Duc used to be the leader of an interpreter team for Vietnamese workers in Germany, and 'professor' An was a French language teacher before 1975.
Many interests
At first, the team encountered numerous difficulties when offering tour packages since "at that time, there were so few hotels, restaurants, not to mention problems of over-pricing that members of the team had to undertake the role of a cook for tourists," 55-year-old Mr. Nguyen Nguyen, a founding member, said.
The first ride was the 25-day tour of Mr. Nguyen gave to Mrs. Marie Hube, a German doctor, from Da Lat to Ha Noi. She said she was really fond of new things, new remote areas. From then on, customers came more frequently and the travel distances got farther. Money earned from those rides was used to buy safer and steadier 125cc Japanese motorbikes to replace mediocre ones.
The turning point was in 1999, when 'Rocky' Thien and other younger members created an English website for the team. More foreigners knew about them. "We are then at ease in getting orders. All we have to do is using a computer to go on the website to give advice, to provide a specific price, and to schedule an appointment for picking up tourists" captain Hoang Van Quan recalled.
The most important thing is that the whole team always tries to uphold the prestige of their brand name. Captain Quan confided, "That is also an image of Viet Nam in the eyes of foreigners."
Traveling with these riders, tourists have an opportunity to get in touch with Vietnamese lifestyle. There were times when tourists asked them to stop so that they could broil ears of corn, transplant rice seedlings or pull weeds with farmers. 'Rocky' Thien told me, "I was most touched when taking Mr. Dohn, a former American soldier to his old battlefield five months ago.
When seeing a wounded soldier working in the rice field alongside Ho Chi Minh Trail, he asked me to stop and interpret his words to that man. After a while, they both hugged each other smiling and crying. Then the foreigner gave the farmer a present, saying 'I like the answer of President Nguyen Minh Triet to a foreign reporter: 'We are aware of our past, but we are not fond of talking only about the past. Let's build our present life and look forward to our future'… Only at that moment can I understand that they were once from two opposite front lines."
The job of a motorbike rider for tourists holds various positions: a rider, a guard, an interpreter, a psychologist, and a tour guide. They make VND5-6 million (US$330) a month, enough for them to take care of their families and to pay for their children's studies.
In 1991, elderly xe ôm riders like 'professor' An, Thanh, Hien, Thiet, French language teachers before 1975, gathered people with good foreign language level, founding the unique xe ôm team for tourism in the foggy city.