More than 700 students of Ho Chi Minh City University of Economics will come to four communes in the Bu Gia Map border district of Binh Phuoc Province for the annual Green Summer Voluntary Campaign 2010, from July 6 to 28.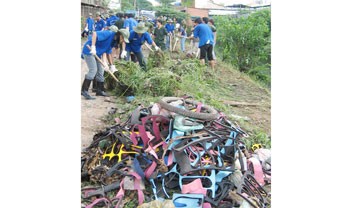 Volunteer students protect the environment by making living areas cleaner
The campaign will mark the fourth time that students from the HCMC University of Economics have visited the mountainous province of Binh Phuoc.

For a few weeks, students will live and work together with local residents, forging deep impressions on them with their spirit, enthusiasm, responsibility and commitment.

Young volunteers will help local people repair bridges, roads, and teach children.

They will bring 20 computers to the district to teach IT to young people and will hand them over to local young people after the campaign.

The students will also build two houses for disadvantaged families in the Duc Hanh and Long Binh communes.

Of course, there will be friendly music performances between students and local people throughout the campaign.

The annual charity activities hold great significance for students. They are always eager to support the poor in remote areas in order serve the communities usefully and honorably.


Bu Gia Map is a very poor and remote district, established November 1, 2009, near the Cambodian border in Binh Phuoc. The province located in the Southern Key Economic Zone, borders Dak Nong province in the North, Binh Duong province in the South, Lam Dong and Dong Nai provinces in the East and Tay Ninh province and Cambodia in the West. The province shares a curved borderline with Cambodia of over 240 kilometers. Dong Xoai Township is the economic and cultural center of Binh Phuoc province, 128Km from Ho Chi Minh City
The Binh Phuoc province has attracted many tourists who come there to see the Ta Thiet military base, Loc Ninh relation house, and waterfalls.