Ahead of the Can Tho Bridge's inauguration in three weeks to connect the two provinces of Vinh Long and Can Tho, SGGP reporters visited Vinh Long's My Hoa Commune to meet local residents whose relatives were killed in the collapse of the bridge over two years ago when it was under construction.
On September 26, 2007, a 90-meter section of an approach ramp, 30 meters above ground, collapsed. At the time, around 250 engineers and laborers were working on and under the span when it fell, killing 54 people and injuring about 80 more.
With support from local authorities and each other, the families say they are coping the best they can to carry on after the tragic loss.
Overcoming grief, hardship
Binh Minh District's My Hoa Commune resident Le Van Mai, whose son was killed in the incident, said, "My large family is poor, so in the past we had to take every odd job we could just to make ends meet, from digging, to paddy-cutting, to masonry.
"Tan was my eldest son. He was very dutiful and hard working. He expected to make enough money to build a house for us in our old age. But [now] his dream will never come true," said Mr. Mai.
On the day of the accident, Mr. Mai says he suggested that Tan stay home as he was ill. But devoted to earning a living for his family, Tan went off to work anyway, never to return.
After Tan's death, local authorities and social agencies gave a great deal of support to his family.
They were offered a house and VND500 million (US$26,300), with which they bought 1,000 square meters of land to grow pomelo and 5,000 square meters of land for rice cultivation.
Their hard work and investments are now paying off and they are even able to save money for the future. All three of Tan's siblings have performed well in school, with the youngest winning a VND50 million scholarship.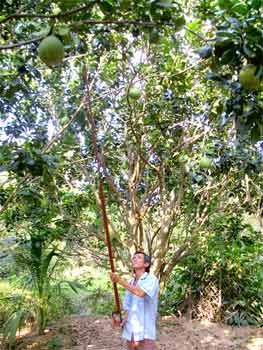 My Hoa Commune resident Le Van Mai tends to his pomelo garden. His eldest son, Tan, was killed in 2007 in the Can Tho Bridge collapse. (Photo: SGGP)
"Now that the Can Tho Bridge is about to open, I am very happy since the bridge will help develop the Mekong Delta region. However, the bridge also reminds me of the loss of my son," said Mr. Mai.
"Every evening for the past several days, my wife has asked me to come to the bridge. She cries often as she recalls our son; and I silently take her hand and return home."
Another bridge worker, Nguyen Van Tung, was also killed in the collapse. He is survived by his wife Ngo Thi Tot.
After offering incense to her husband's altar, she said, "Initially, I thought I could never overcome the greatest loss of my life. My husband worked very hard to make money to repay a bank loan of VND10 million that we took out to grow pomelo.
"Only thanks to the support of our neighbors and local authorities have my children and I been able to survive," she said.
Her eldest daughter, aged 24, has received free vocational training and is now working in Vinh Long City. Her younger brother, who earlier had to drop out of school to work, has now been able to return to his grade 12 studies thanks to financial support from the community.
Ms. Tot's youngest daughter, a grade 7 student, has also earned a VND40 million scholarship.
  
Asked about her future plans, Ms. Tot said, "I still love my deceased husband very much. I will not remarry. I have VND400 million in the bank, donated by the community, and enough to pay for my children's future. I still grow pomelo every day and our current life is secure."
Community support
Nguyen Huu Luc, deputy chairman of My Hoa Commune People's Committee, said, "Thirty-four people from the commune died and 41 were injured in the bridge collapse. To date, with support from the local authorities and community, all families of the victims have been provided for and have used the funds efficiently."
Many victims' families were once in poverty but now they are financially much better off, he said.
More than 60 students, who are children or siblings of the victims, have been granted scholarships and many businesses have pledged to employ them when they graduate from school.
The number of poor families in My Hoa has now been reduced to 119 and all victims' families have been offered VND100-200 million. Local agencies have ensured that the money is spent wisely.
"Farmers here now cultivate pomelo very well, with products that meet export standards accounting for 40 percent of total production. The leaders of Vinh Long Province have also promised to help local farmers grow pomelo according to international standards to boost exports," said Tran Van Sang, chairman of the My Hoa Nam Roi Pomelo Cooperative.
Land prices here have increased 2-3 times from those three years ago, with land for pomelo-growing surging to VND70-120 million ($3,680-6,315) per 1,000 square meters, and land near main traffic routes rising to VND200-400 million per 1,000 square meters.
To improve the lives of residents and businesses in the community, traffic infrastructure in My Hoa Commune has also been developed. Around 25 km of roads and many small bridges in 10 hamlets have been built, along with a 2km road connecting the commune with the Binh Minh Industrial Park. 
Taking advantage of the Can Tho Bridge, three eco-tourism centers are also under construction in My Hoa to attract tourists in the future.
Although they will continue to grieve the loss of their loved ones, in the wake of the bridge tragedy, locals say My Hoa is slowly but surely moving forward.