From the observation deck of Radar Station 600, Nam Du Archipelago's island landscape of sparkling beaches paints a watercolor image.  The vast ocean is crowded with small boats and big ships.
Nam Du Archipelago
Nam Du Archipelago includes 21 islets with residences of Hon Ong, Hon Ngang, Hon Mau, Hon Tre and Hon Son ethnicity.  The islands still maintain wild beauty with fresh coconut trees and sandy beaches.  Various romantic destinations for tourists are Cay Men, Hon Mau and Hon Dau.
"Nam Du is getting popular for tourists due to its wild natural beauty. Along with romantic getaways, the lighthouse is also a must-see destination," said Vu Nang Huan, Chief of Nam Du Lighthouse Station.
The islands are quiet and dark at night except for the broad light from the lighthouse.
There are two administrative communes in Nam Du named An Son and Nam Du.
An Son area is about 6 square kilometers with 1,062 households, said Administrative Officer of An Son's People's Committee Nguyen Thi Nuong. The average income is over VND 20 million per year.  The main industry is fishing, cattle breeding and handicrafts.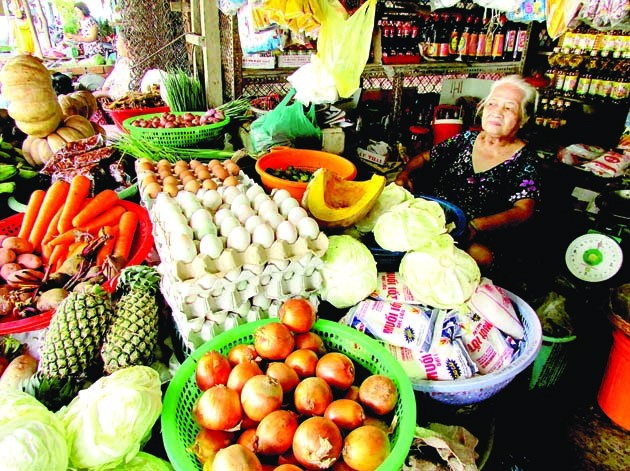 Many stores and gift shop set up along Bai Tret
In 2013 the island's fishing industry exported over 10,000 tons of seafood on 420 boats. The island has 11 low-income households.
Our delegation is very excited about the many stores and gift shops along Bai Tret, said Nuong. One side of the island is left untouched with mountains and beaches while the other side is lined with houses and buildings. 
"Nam Du's inhabitants also show friendliness and hospitality," said Nuong. "There is a plethora of young people who moved here from the city to teach. Many families are of navy officer and border soldiers. Nam Du has become these peoples' second home."
A vast array of people moved to Nam Du's islands starting in 1990.
I moved to Nam Du about 30 years ago from Quang Binh Province, said resident Nguyen Duy Mui. His family owns two large boats and a small one.  They live prosperously in Nam Du.
Visitors of the island can take the express boats departing Rach Gia everyday.  The five-hour boat ride stops at Hon Cu Tron on the way.
The Nam Du Archipelago is close to the mainland and has working Internet and the island has a good socio-economic development and national defense security, said by Nguyen Thi Nuong.