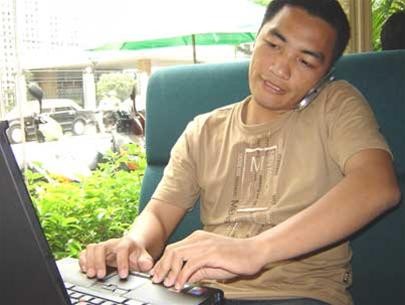 Tran Trung Khiem
Tran Trung Khiem, 28, is now the owner of Netviet Communications Join-Stock Company, with three representative offices in the country and abroad. Netviet, once only a 5-member start-up, now has contracts signed with big multinationals in the world. But he said, "It's just a start."
Khiem was well known in his family for his venturesome spirit. When he was in the ninth-grade, he spent three months in the summer working as a bricklayer to save up for a bicycle. He did get VND800,000 for the bike but nearly lost his life in a workplace accident.
He then decided to go to Ha Noi to study at the Posts and Telecommunications Institute of Technology. He then had to work hard through his study with many jobs like website designer, computer salesman, etc.
Even when being refused for a post in a Singaporean company, he did ask the leader to allow him to work for nothing. He promised that he would get the salary if the work proved valuable. "At that time, I did it just for working experience", he said.
Khiem returned to Ho Chi Minh City in 2003 and joined a Canadian software company, The fresh graduate was appointed the project manager after four months working and later became the vice director in charge of software development for the Canadian market. However, it was not his final target.
The dream of being self-employed always urged him to do something bigger. And in the middle of 2004, Khiem set up his own company, Netviet, specializing in communications network and software outsourcing services.
The small company at that time was located in just a 25 square meter room. Three of his close friends then joined the company to assist him without salary for the first three months.
Netviet, the company with only five members at start-up and up to 50 at present, gradually has contracts signed with many leading multinationals like Globals Inc, Kpro Company, Blitz IT Consultants Pte Ltd., etc. Lots of American firms, Tometa Software Inc, School Outfitters, are now potential partners of Netviet.
In early 2005, Netviet opened a representative office in the US and invited the cooperation of Vietnamese overseas. Answering the question about his great success, he smiled and replied, "It's just a start."