At the Ho Chi Minh City War Remnants Museum, a group of young tour guides spoke of Vietnam's history on a Saturday at the end of October – without making a sound.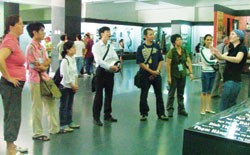 Trainees in practice
The tour guides were using sign language to explain the photos on display at the museum on Vo Van Tan Street in District 3. The tourists were deaf and hearing-impaired.
The new services for deaf and hearing-impaired tourists is the brainchild of Ms. Hoang Thi Minh Thi, who directs the Smile Tourism Service Company (STS) in Ho Chi Minh City. Ms. Thi is assisted by two hearing-impaired Australian volunteers, Stephanie Linder and Susan Laura Emerson.
Ms. Thi's company offers deaf and hearing-impaired travelers appropriate itineraries, enjoyable activities and great service. The two Australian have taught their Vietnamese colleagues international sign language so they can communicate with deaf people.
At the museum, the group of young guides paused before a photo of women and children trying to escape from a village that was napalmed. When the guides became stuck, Stephanie reminded her colleagues how to express the extreme pain of the victims of napalm bombing using their hands and facial expressions.
Ms. Thi, who offers people with defective hearing free tour guide training courses, said her first attempt at training was not as successful as she had hoped. Her first 20 young trainees had poor vocabulary and limited social, economic and political knowledge. However, after 20 months in training, three men and one woman were ready to become tour guides.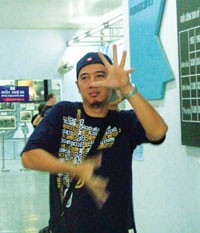 Tuan Anh speaks with his hands
The training course graduates had found inventive ways to explain some uniquely Vietnamese concepts. For instance, to explain Pho, rice noodle soup with beef or chicken, Tuan Anh came up with an entertaining way to describe how to peel vegetables. His explanation also includes pig and ox imitations.
So far, the group has taken three hearing-impaired tour groups and two Japanese and four Australian excursionists. In December, they will take two hearing-impaired American tourists to visit the Mekong delta.
Tuyet Mai, 26, expressed her wish to be a professional tourist guide so she can travel, meet people from around the world and broaden her knowledge. More important, she can prove herself being useful to society.
Huynh Quang Dung, a graduate of the faculty of biological technology of Van Lang University, is very excited about his new career as a tour guide. Dung, from the central province of Quang Ngai, suffered a debilitating illness at the age of five. He has managed to regain most of his skills - except his hearing.

Website of STS:
www.smiletourvn.com