Streets at central districts in Ho Chi Minh City (formerly known as Sai Gon) are always teeming with people late at night. Some are going to work, some going to entertainments, and some just hanging around. The hustles and bustles of the city life go deep into the night. Restaurants are places for them to keep warm as evening falls and it is getting cold.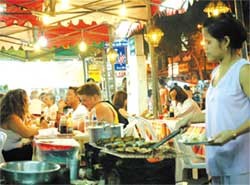 Food-stalls along the two sides of Ben Thanh market are always crowded at night.
If some night, you cannot sleep, take your motorbike and go for a ride around the city. You will see people crowd in and out of glowed places. They are just restaurants, including all kinds from such luxury ones as Hoang Thanh (Nam Ky Khoi Nghia Street), Dai Khanh (Hai Ba Trung Street) to popular restaurants along embankments of Nhieu Loc canal (Phu Nhuan District), at Ky Hoa night market (District 3), or along Dien Bien Phu Street.
There are also a series of fast food restaurants, which are mushrooming at nice places, such as KFC, Lotteria, Jolibee. With luxury and comfortable space, a varied menu, offering pizzas, hamburgers, fried chickens, fried potato chip, fast food restaurants attract lots of people, mostly the youth who come to recharge their vitality for the upcoming night full of fun.
If you are too lazy to get out late at night, you can just make a phone call. Hot and delicious dishes will be delivered in 15 minutes.
People like to eat rice porridge at night, for it is easy to digest and it does not take too much time to cook. Besides, rice porridge is also delicious but cheaper than other dishes.
At present, there are two areas gathering lots of favorable porridge stalls. One is in Ly Chinh Thang Street (District 3) and the other is Hang Xanh traffic-circle. The brightly lighted row of stalls invariably hangs only one simple sign "rice porridge". However, they are always crowded.
A bowl of rice porridge is about VND2,000 - 3,000, served with various add-ons which are also cheap, at about VND5,000 – 10,000 a set. They are salted duck eggs, fried anchovies, gobies braised in fish-sauce and pepper, shredded meat salted and dried with garlic, crabs, simmered shrimps, meat raised in fish-sauce and pepper, vegetable pickles, vegetables, etc.
Over 10 food-stalls along the two sides of Ben Thanh market are also ideal place to enjoy porridge late at night. Restaurants here offer many types of porridge from expensive to cheap, around VND16,000 – 25,000 a bowl, including chicken porridge, duck porridge, beef and green bean porridge, sea-product porridge, abalone porridge. 
For nutrition or simply a change, H20 restaurant (216 Pasteur Street, District 1) serves strange tasty ginseng porridge at the price of VND39,000 a bowl.
Beside porridge, people can find lots of delicious night dishes, namely Hue beef noodle soup, Phnom Penh pork noodle soup, fried rice, black chicken braised with Chinese herbs. People can find those dishes at restaurants in Nguyen Huy Tu, Nguyen Thai Hoc, Hai Trieu (District 1), Nguyen Trai (District 5), Nguyen Tri Phuong (District 10), Le Van Sy, Ky Dong (District 3), Phan Xich Long streets (District 11).