Looking back to very difficult days of the past, middle aged Vietnamese people recall how important it was to wear a crisp ironed shirt on Tet Lunar New Year.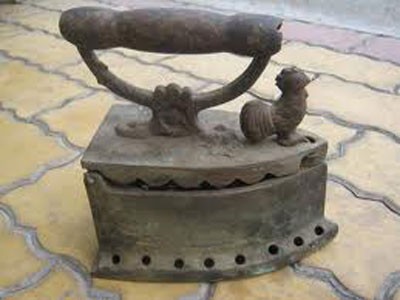 Charcoal irons, nostalgic memories of hard days in the past
Most middle-aged Vietnamese people remember the difficult days when no one would think of visiting another person's house in a crumpled shirt, especially during the Tet Festival.

They can never forget the difficult days the country faced immediately after it gained independence, when people struggled to feed themselves and their loved ones and when it was even harder to earn money to afford clothes.

People had more opportunities if they worked in a state company as they were issued five meters of cloth to make shirts or trousers, while for people in the countryside the concept of issuance of fabric was totally alien; it was an unheard of thing.

The older people managed to sue clothes for themselves from leftovers of their children or grandchildren, while the younger people saved money or begged their parents to buy secondhand clothes in flea markets.

However, even this was not possible every year. There was never enough money to buy secondhand clothes from flea markets every year and often used clothes had to be turned inside out to give them a new look.

In some families in the countryside, mothers took up sewing by hand. Sewing these secondhand clothes was not a difficult job for mothers in rural districts but it was really hard work to erase the old creases. For this, the time old copper coal iron with a sculptured copper chicken fixed on its head was a real life saver and helped erase those stubborn   creases.

Charcoal irons were heated by smoldering coal which was taken from a fire and placed inside a box on the top of the iron. The lid of the box had a handle and often a sculpted figure of a chicken on the top.

It is not clear how much a coal iron cost at that time, but in a village of 100 households there were only two irons; one belonging to my family and the other to the tailor.

It was hard to borrow the iron from the tailor so all eyes concentrated on my family's iron. A few days before Lunar New Year, all farming work stopped and people in the village started making cakes for Tet.

My house became a rendezvous for youth of the village to gather to iron their clothes. There were many interesting incidents surrounding this. Ms Lanh saved for years to buy an expensive outfit to wear at her betrothal ceremony or trips with her fiancé.

However, the outfit was made of nylon so it easily creased and she had to iron it carefully. Once, she took the iron and placed it on her precious outfit but forgot it was too hot for the fabric. As a result, one of the flaps was burnt and Ms. Lanh burst into tears!

Today, every house has an electric iron which will automatically decrease the temperature and young people have more beautiful clothes to wear on special occasions. I feel both nostalgic and sad remembering those hard days in poor villages with good-natured people.