Vietnamese researcher Thái Kim Lan is showcasing old, rare áo dài in her collection at an exhibition and installation which opened Wednesday evening in Huế.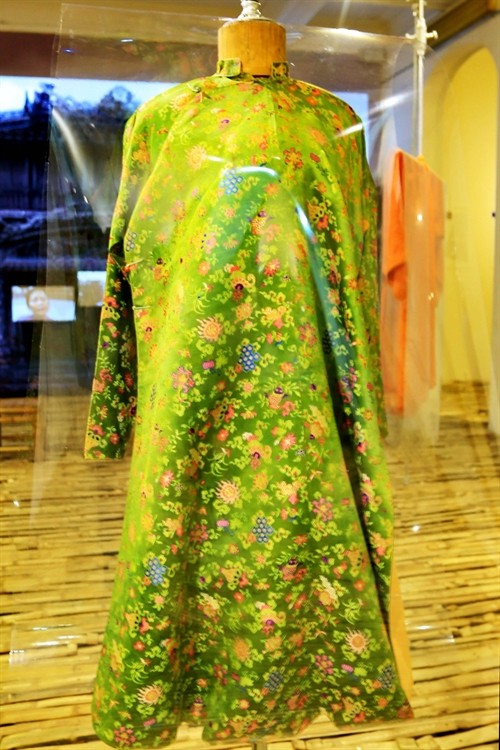 Old, rare áo dài displayed at the exhibition. — VNS Photo Huê Phong
Lan's collection of 12 costumes has been put up by German installation artist Veronika Witte. Thái Kim Lan had the collection moved to Germany with her when she left Việt Nam for studies in West Germany in the 1970s.
The áo dài in Lan's collection were worn by Huế locals, including members of the royal family, in the 19th and 20th centuries.
Thái Kim Lan, a philosophy professor now based in Munich, Germany, said the exhibition of these costumes represented a return to traditions. These áo dài were  worn by locals historically. And the áo dài coming back today represented tradition coming back to its roots, she said.
The Goethe Institute Việt Nam director Almuth Meyer-Zollitsch appraised Lan's collection, crediting her for bridging the cultures of Việt Nam, where she was born, and Germany, her home country since she turned 16.
The theme of the exhibit is the return of tradition. The floor where the costumes are exhibited is made of bamboo shoulder poles. The poles provide a unique reminder that long ago Vietnamese women wore áo dài every day, even while carrying heavy loads with bamboo shoulder poles and baskets.
The highlight of the exhibition opening ceremony was the Vietnamese women, including Goethe's director, dressed in an áo dài.
Being national costume when Việt Nam was a kingdom, now áo dài stays the national dress for important ceremonies and events.
"Áo dài makes me feel the most confident in dressing. I have a strong inner urge to learn about áo dài of the past. And today is a good opportunity to do so," said lecturer Lê Thị Nguyện, who arrived at the ceremony right after her class at Huế University of Sciences.
The exhibition opens until June 12 at the Huế Museum of Culture at 25 Lê Lợi Street in Huế City.