Playing guitar is difficult enough with the use of both hands, but doing so with just one? It's a fact of life for Nguyen The Vinh, 39, whose right arm was amputated at a young age. What's more, he plays his harmonica at the same time.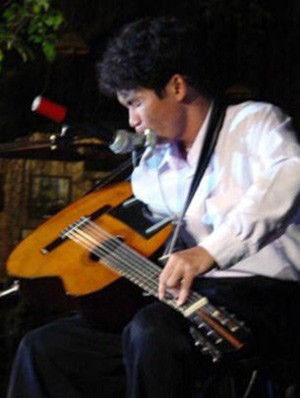 Mr. Vinh, one-handed, plays harmonica and guitar
Born into a poor, rural family in the central province of Binh Thuan, Vinh had a traumatic childhood. When he was only four he lost his father to the war, followed three years later by his grief-stricken mother, and then his elder brother shortly after.
But the defining moment came when at eight years old he broke his right arm falling off a cow's back while tending a herd. He was only in grade three.
Due to a lack of money, Vinh's broken arm was simply wrapped in herbs. By the time he was brought to a local hospital two days later, it was already too late: his arm had become infected and had to be amputated.
Off to the Big City
Vinh had to practice writing with his left hand after the accident. "It is ironic that being left-handed in the beginning, I wrote with my left hand when I first started school but was told to switch to the right hand. Now I had to switch back."
When he was in the sixth grade, Vinh first took up the guitar but had to abandon it as the instrument requires two hands to play. It wasn't until he entered the ninth grade that he learned how to play with one hand, by pressing the strings with his index finger and plucking with his other fingers. This technique is usually only for advanced, two-handed guitarists since it demands strength in the fingers. Today Vinh says he can't remember how many times his fingers were bruised and bleeding, but with perseverance he finally succeeded.
One year later, he began practicing the harmonica. By placing it onto a fixed stand, he found he could move his mouth freely to blow different tunes while playing the guitar to accompany the melodies.
After graduating from high school, Vinh moved to Ho Chi Minh City to find work and found himself renting a room with a few economic tertiary students who encouraged him to attend university. Vinh took an entrance exam and was accepted into the University of Economics.
Musical Career
As a student, Vinh had no time for music and had to perform many odd jobs including pumping flat tires and mending punctures on the roadside, guarding motorbikes and tutoring. He once had to halt his studies for one year to work to support his younger brother.
Using his entire salary from his first month working as a building's motorbike keeper, Vinh finally bought a guitar. "The guitar cost the equivalent of 120 kilograms of rice, which would be enough for a student to eat for one year," says Vinh.
In 2004, Vinh joined the Hoi Ngo Club and has found fame enough to win the audience's heart in every musical performance. He has teamed up with Ha Chuong, a sight-impaired songwriter, and singer Thuy Tien, to form a band that now crisscrosses Vietnam to perform romantic songs, mostly written by the late Trinh Cong Son (one of the most famous songwriters of modern times).
And now? Vietbooks, Viet Nam's records organization, is considering an entry for Vinh as the "first Vietnamese to play guitar with one left hand."