In 1996, Viet Nam's then Agriculture Minister Le Huy Ngo, during a working trip to Africa, recognized the effectiveness of ostrich farming in the continent. He bought 100 eggs. Returning to Viet Nam, he assigned the eggs to the State-run Thuy Phuong Poultry Research Center for experimental breeding. The center got 38 birds after hatching.
Viet Nam's Ostrich Research Center
The center stands at the foot of Ba Vi Mount in the northern province of Ha Tay. It was set up in 1997 and covers 15 hectares. Staff consisted of 60 people, including 17 researchers of university level and higher.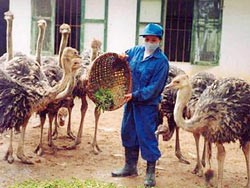 A worker feeds ostriches at the Ostrich Research Center (Photo: Dang Kien)
Center chief Bach Manh Dieu says his center had the first 38 ostriches and bought 150 more from Australia in 1998. So far, more than 3,000 ostriches have been hatched at the center and supplied to farms in 23 cities and provinces throughout Viet Nam.
At this time, the center has more than 1,000 ostriches kept for breeding, aged from newly-hatched 10 months. The biggest male bird is over two meters tall, weighing about 140 kilos. A female bird is about 1.7-1.9 meters tall, weighing around 110 kilos. The more the birds run, the better their meat is.
The center has an anti-infective spraying system around the cages to protect the birds from diseases. Mr. Dieu says, "No bird flu cases at ostrich farms in Viet Nam have been reported so far but we always take precautious measures to protect our flock. All people, including visitors, have to undertake sprays before entering the farm. All new equipment is also sprayed." Besides, all ostriches have taken antibiotics and been vaccinated regularly, he adds.
Much profit from ostrich

Ms. Nguyen Thi Quang, knowledge manager at the Thuy Phuong Poultry Research Center, says meat is the most valuable item from ostrich. The meat is delicious and nutritious with low cholesterol.
At the ostrich products shop at 145 Kim Ma Street in Ha Noi, the shop manager says almost all 30 restaurants and hotels in the capital often buy ostrich meat from the shop at VND200,000 per kilo. In Ho Chi Minh City, the selling price is a little higher, VND260,000-270,000 per kilo. In the world market, the selling price is US$25-30 per kilo.
Skin is another important item from this bird. Experts say that ostrich skin is more beautiful and durable than crocodile skin. Ostrich skin is used to make deluxe fashion products like handbags, wallets, purses, clothes and shoes. In the world market, a square meter of ostrich skin is priced at US$400. In the US, a sheet of 1.2-1.4 square meters is priced at US$550-580, a pair of ostrich skin shoes at US$2,000.
Ostrich feather also brings high value. In Europe, a kilo of raw ostrich feather sells for US$100, a kilo of tender feather sells for US$2,000. In addition, the eggshell and claws are used to make jewelry items or handicrafts. An eggshell is priced at VND60,000 in Viet Nam, while a handicraft made from an eggshell sells for VND120,000-600,000 (compared with US$80 in Africa).
Bright outlook

With around 670,000 raised ostriches, Africa is leading the world in this field. Europe has about 6,500 farms with more than 50,000 head. North America and Australia also have many ostrich farms. Ostrich raising has developed in Asia in the last two decades: Israel's number of ostriches is just behind South Africa, China has nearly 100,000 head.
The world market needs 10 million ostriches a year but supply is not sufficient. In Europe, demand for ostrich meat is three to four times higher than supply, resulting in very high prices of eggs for breeding, about US$70 each. A new hatched ostrich is priced at US$100 while a three-month-old bird US$350-450.
Viet Nam has various areas suitable for raising these birds. Experts say it is not difficult to raise ostriches due to the availability of feed, which include grains, vegetables, weed, and chicken feed. Ostriches can live in a wide range of temperature: 30 minus degrees Celsius to 40 degrees Celsius. After 10 months raising an ostrich, the farmer can sell the bird and the net profit can be VND1.5-2 million.
It is more profitable to raise the bird for breeding. A mother bird can lay 40-50 eggs a year and the eggs can hatch into 20-25 young birds. Calculation shows that a mother bird can give 2 to 2.5 tons of meat a year, so during its motherhood of about 10 years, the total of meat it produces is 20-25 tons, 10 times better than a cow does.
With an ostrich 'family' of two females and one male, a farmer can earn VND25-30 million a year, much higher than the profit from cow or pig raising.
Ostrich farming is still quite new in Viet Nam. This exotic bird has not lived in Viet Nam for a long time. Farmers need more knowledge and experience. At present, private farms dare to raise 50-100 heads each and just a few farms have more. This business still has numerous things to do from breeding to manufacturing products from this bird. 
The Ministry of Agriculture and Rural Development will hold a national workshop on raising this bird in a bid to help more people know more about this farming.