After three schools reported their infected students, Hanoi's Department of Education and Training (DoH) ordered to close all schools for fear over the swine flu's wide spreading. The decision has affected hundreds of thousands of students and their parents.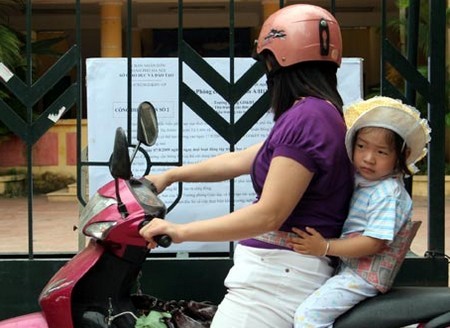 Parents worry where to send their children for a few days as schools in Hanoi closed for fear over the swine flu (photo: Vnexpress)
School closings due to suspect or confirmed cases of swine flu (H1N1) have posed practical concerns to parents, especially those whose children study in pre-schools because their babies cannot take care of themselves while grandparents live far away or parents are able to find out babysitters. In such case, parents must take turn to stay at home with the child.
Ms. Tra in Precinct Thanh Xuan, asked for her annual leave to stay at home with her three year old son as the school closed until August 17 while her husband's parents live far, her parents are busy and she has no babysitter. Moreover, her husband is busy managing a mechanic company; he hence has no time helping her take care of the child.
Ms. Binh in Precinct My Dinh encountered the same situation. The servant asked to come back her hometown in some days, next day Doan Thi Diem Primary School where two of her children are studying announced to close as a pupil of the school tested positive for the virus. She took her children to the office for two days; however, she later decided to invite the grandparents to take care of the children as the babysitter has not returned to working.
Although Mr. Bao in ward Nhan Chinh has thought schools will close the doors as he works in the medical sector, he still got shocked to hear the announcement from the school where his child learns.
He at last takes the child to a cousin who live 10 km far away from his house after his effort to entreat the neighbors to keep the child for some days have been met with little success, yet the cousin agrees to keep for a few days not the whole week. Subsequently, he and his wife will take turn to stay at home to take care of over two year old son.
Of course, the top priority is children's health, but some families complained as they can't arrange everything to look after children, said Vu Hong Chinh, headmistress of DreamKite Pre-School in Hanoi.
Meantime, Nguyen Thanh Doan, head master of Hoang Gia in Doi Can Street, said some parents asked the school's permission for the absence of their babies for a few days before DoH's order for fear spreading of the flu; they therefore support the guideline from the department.
However, it turns out to be good for some parents as they have a chance to check their sons/ girls.
Ms. Mai felt satisfied on seeing her girl rode the bicycle to school on August 11. busy with business, Ms Mai has little time to take care the girl or watch news on media. Only when a customer to her shop revealed unintentionally that all schools shut the doors for fear over the flu, she started in anger.
Rushing to Yen Hoa High School to find out the bad girl, she returned house in disappointment. She came to some friends of the girl to ask for information, then she saw the girl dancing audition in a game shop.
As the new academic year does not start, school managers don't fret so much, said Nguyen Thi Hien, headmistress of Doan Thi Diem Primary School, one of five schools reported to have infected students in Hanoi.
Nguyen Phu Cuong, Chairman of board of director of Lomonosov High School feels the same yet he worried about financial problem as the school closed in two week, it lost around VND one billion while it still paid teaching staffs. The school management proposed teachers to share the misfortune by receiving discounted payment.