The village of STor, also known as Kong Hoa, in Gia Lai Province has seen many changes since the days of Dinh Nup, a freedom fighter of the Bahnar tribe who was born and spent most of his life in that idyllic place.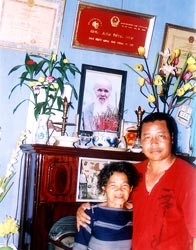 Musician K'RaZan Plin (R) and the second wife of Dinh Nup Hero.
That's the considered opinion of H'Linh Nie, one of four ethnic minority musicians who visited STor recently as their way of paying homage to the great man and the village that moulded him.
Accompanying H'Linh Nie of the Ede people were K'RaZan Plin of the K'ho tribe, and Bahnar members Kpa Y Lang and Thao Giang, who all waxed ecstatic about the natural scenery around the village in To Tung Commune, An Khe District.
It took the musical quartet half an hour to travel the seven kilometers from National Road No. 9 to STơr, which now has slightly over 470 people living in 45 houses. They mainly support themselves by growing rice, sugar, corn and manioc. It doesn't make them wealthy but they never go hungry.
There are only three classrooms from pre-school to fourth grade for the few dozen schoolchildren in the village, but that's more than before and is a good sign.
The architecture and designs of the Bahnar people are among the most beautiful in the Central Highlands and can best be seen in the village's crematorium, which stands in a cemetery surrounded by bamboo huts with thatched roofs and loads of statues.
Most noticeably and a real sign of the times, however, is the declining number of stilt houses that used to be standard dwellings for the region's ethnic minorities.
In fact the distinctive culture of the Bahnar people is fading into oblivion. As just one example, the sound of the gong is rarely heard these days apart from at specific gong festivals whereas it used to be an integral part of life in the highlands.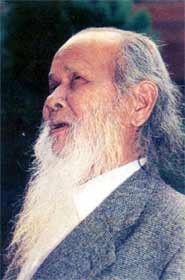 Dinh Nup Hero
Dinh Nhui, a retired official in the village, points out that the gong culture was designated an oral and intangible heritage of humanity by UNESCO only last year. Whether that recognition will help remains to be seen.
As for Dinh Nup, who lived from 1914 to 1998, he led the local resistance against the occupying French for many years and was a leading character in Nguyen Ngoc's famous novel Dat nuoc dung len (rural uprising). He was also the first member of an ethnic minority to be awarded the title "Hero of the People's Armed Forces".
The house that Gia Lai Province built for him and his wife in the village is now a museum displaying photos and drawings of and by Dinh Nup and his comrades, documents about their struggle, and his personal letters and belongings.