Nguyen Van Tong, a rich entrepreneur has replaced and upgraded 250 of the footbridges in the rural areas of the Mekong Delta.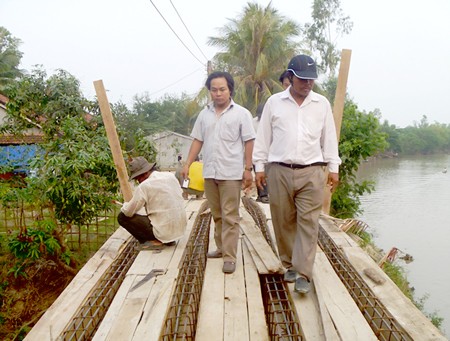 Nguyen Van Tong (R) inspecting a bridge built by his company in An Giang Province (Photo: SGGP)
Mr. Tong, nicknamed Bay Tong, was born in Vinh Binh Commune in Chau Thanh District of An Giang Province. He was once a poor teacher in a village school and was fondly addressed as "teacher Tong" by friends and relatives.  
 
Finding it impossible to live on his low teacher salary in his hometown, he left for Saigon in 1983 with his wife and children to look for a better means of subsistence.
 
He lived with his family for nearly 10 years in a temporary tent, under the Truong Minh Giang Bridge on the side of Nhieu Loc channel constantly exposed to the elements while they traded in recycled paper, cans and bottles.
 
When he had saved enough money, he bought a small house in District 6 in 1990 and opened a store for recycled waste products, waste iron, old corrugated iron and planks.
 
Two years later when the construction sector began to develop in Ho Chi Minh City, he started a business to dismantle public construction projects, houses and warehouses.
 
This business changed his life and from profits generated from the business, he opened three more stores for recycled waste. Later he established a company dealing in construction materials, steel, dismantling of houses and construction.
 
When he was secure financially, he turned his attention back to his hometown. He had nostalgic memories of his earlier teaching days and of little pupils crossing streams on unsteady footbridges often slipping and tumbling in the water. He felt an urgent need to do something about this problem.
 
It took a long time for him to research documents on bridge designs and consult friends working in the construction field. Once he had a plan, he was ever more determined to implement his ideas to reality in his hometown.
 
On a summer day in 1992, after nearly two months of construction, a suspension bridge worth over VND112million was inaugurated, much to the joy of teachers, pupils and residents of Vinh Binh Commune.
 
Mr. Tong, the once poor teacher was the happiest man as he looked at the bridge over the channel leading to his old school. Later he was encouraged to build more bridges by his friends and relatives.
 
More than ten years later, a construction unit of his private enterprise Trung Binh, established in 1992 and then of the Thien Tam Construction Company Ltd., set up in 2006, has been present in Mekong Delta provinces to build bridges and bring happiness to thousands of residents.
 
Depending on small or big bridge projects, Mr. Tong has always contributed an appropriate fund, providing an average of 30-50 percent in material costs and offering free construction.
 
However, for some bridges built by the Thien Tam Company he financed 100 percent of the costs such as the Dan Lap 1 Bridge worth VND270million in Vinh Phuoc Hamlet in Vinh Binh Commune and a suspension bridge worth VND135 million in My Thanh Hamlet of Nhon My Commune in An Giang Province.
 
Within a period of 19 and half years, he has spent billions of dong to build 250 bridges for Mekong Delta residents.
 
The longest bridge he built was the Chua Noi suspension bridge in Long An Province. The 172-meter bridge, across the Vam Co Tay River and worth VND1.35billion was inaugurated in December 2010.
 
His newly built bridge in Tan Hoa B Hamlet of Tan Hoa Commune in Tan Hiep District in Kien Giang Province was inaugurated in early April.
 
Nguyen Van Huyen, an elder of Tan Hoa B Hamlet, said the bridge was a dream of the hamlet residents for tens of years. Thanks to Mr. Tong, their dream has come true.
 
Nguyen Van Tron, another resident of the hamlet, said local residents, especially women, the old and young pupils can travel easily and conveniently from now on the new bridge. They will no longer have to take a lengthy roundabout route to get to the other side of the channel to work and study.
 
Mr. Tong said building bridges for people gives him joy and peace and he will continue to do so, as long as he can afford it.