Photographer Nguyen A's book on tai tu music, a genre of traditional music unique to southern Viet Nam, has been released in HCM City.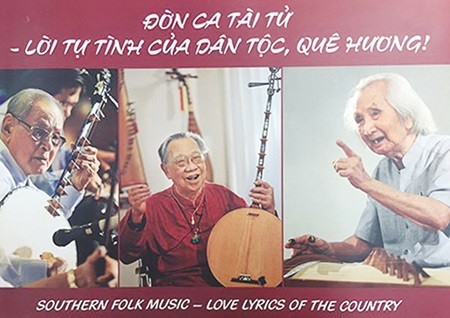 Folk musicians: The 288-page book Don Ca Tai Tu-Loi Tu Tinh Cua Dan Toc (The Sound of Viet Nam) features 1,000 colour photos about the traditional music genre tai tu of southern Viet Nam.
Tai tu music is considered the prototype for vong co (nostalgia) and cai luong (reformed opera) of the south.
It began about 100 years ago and is associated with farmers who sang in the fields or while relaxing at the end of a hard day.
The music is performed at traditional festivals, weddings and death anniversaries in the provinces of Ca Mau, Bac Lieu and Can Giuoc.
In 2013, it was recognised as an Intangible Cultural Heritage of Humanity by UNESCO.
The 288-page book, Don Ca Tai Tu- Loi Tu Tinh Cua Dan Toc Que Huong (Tai Tu Music - The Sound of Viet Nam), includes 1,000 colour photos featuring 150 stories about the music's history and its artists.
The photos were selected from a collection of several thousand works by photographer A, who spent more than two years travelling around the southern region.
"All of my works are in praise of the traditional culture, lifestyle and music of southern Viet Nam," he said. "Each photo presents a story of friendship, love and dreams of veteran and young tai tu artists, who have devoted their life playing and expanding the music."
Photos of artists as well as traditional instruments such as the two-stringed guitar dan kim are featured in the book.
Music teacher and researcher Nguyen Vinh Bao and the late professor Tran Van Khe, a well-known ethnomusicologist, are also depicted.
Born in Sa Dec Province (now Dong Thap), Bao plays traditional Vietnamese instruments like the dan co (two-chord fiddle) and dan tranh (16-chord zither).
Bao, who enlarged the dan tranh to bigger zithers with 17, 19 and 21 strings, worked as a lecturer for University of Illinois from 1970-72. He has travelled to many countries to perform and give talks about Vietnamese music.
Now, at the age of 97, he lives in HCM City and has worked for art schools training theatre students.
He received the Phan Chau Trinh Awards 2015 in HCM City for his contribution to research and preservation of traditional southern music.
Printed by the Viet Nam News Agency's Publishing House, the book is a valuable resource for theatre and music lecturers and researchers, and students at art schools and institutes. It is available in HCM City bookstores.