After spending 15 years traveling throughout Viet Nam, American photographer Peter Steinhauer has completed his book entitled Enduring Spirit of Viet Nam. An exhibition with the same name is currently being held at the Art Viet Nam Gallery (30 Hang Than, in Ha Noi) from Dec 8 – 29.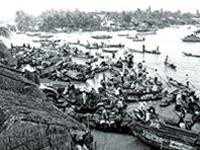 Can Tho floating market (Photo by Peter Steinhauer)
Peter Steinhauer was born in 1966 and first came to Hanoi in 1993. He has since traveled to many destinations in the country, motivated by the discovery of new worlds. Enduring Spirit of Viet Nam, is comprised of four different bodies of work: The Mekong Delta, Canals of Saigon, Ethnic Minorities of Viet Nam and Hanoi - Streets, Roofs, and Houses.
Work on the book was begun when he encountered ethnic minorities in northern Viet Nam in February, 1994. He was fascinated by their attire and the simple lifestyle that he found in the remoter regions.
The characters in the photographs, both young and old, have a certain quiet and tense look about them - close yet introverted. "I have respect for them. These people have an enduring culture which I tried to capture through my lens" – said Peter.
In his book, he chose not to write anything about the various conflicts that have affected Viet Nam, especially that between Viet Nam and the United States. When looking at the culture and people of this country, however, it is impossible not to see the consequences of war: this is evident in some of the photographs which demonstrate the sadness of bygone eras.
Peter also chose not to use material reflecting modern Vietnamese culture, where outside influences have had a diluting effect. Instead, he focused his attention, and his lens, on the past. This is evident in Ha Noi - Streets, Roofs, and Houses as well as Canals of Saigon where communities straddling canals become a symbol of old Saigon, the days when people left rural areas to settle in precarious dwellings hovering above the black water.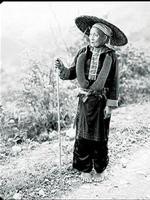 Dao ethnic group (Photo by Peter Steinhauer)
The photographs in The Mekong Delta were taken during 1995. The method of displaying the photographs in groups of 2 or 3, or combining them end-to-end to create panoramas, offers the viewer a more interesting visual experience.
Peter Steinhauer graduated from the Colorado Institute of Art with a degree in photography. Along with Enduring Spirit of Viet Nam , he has also published Viet Nam: Portraits and Landscapes. He has had his work displayed in numerous exhibitions, earning him a good deal of attention from the public.

Of these "Viet Nam: A Decade in Images" (a cooperative effort with photographer Nguyen Hoai Linh) was especially well received and coincided with celebrations centered around the tenth anniversary of the normalization of diplomatic relations between Viet Nam and United States.
Peter explains: "This book has deep meaning to me. It's something very personal; these are the images of my life and work in Viet Nam over the last 10 years. It's like a photo diary about the evolution of my perception and style".