As a businessman, citizen, official diplomat Bui Kien Thanh enthusiastically promoted Viet Nam's image to the world and as the country is now on its way to international integration, people of his kind-intelligent, kind-hearted with a love for the country- are indispensable to Viet Nam's development.
From the self narative in Brodard coffee shop…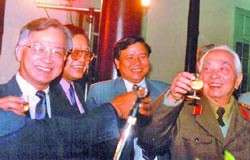 Bui Kien Thanh (L) and top-ranking general Vo Nguyen Giap (R)
Arriving at Brodard coffee shop on Dong Khoi Street, where he often came in the old day, he was moved by his nostalgic impulses. "It is an old coffee shop," he said. Then he deliberately talked about his life in the old coffee shop and all the time he passed in this quiet space watching the Sunday sunset.

At 22, he was the first Vietnamese graduated of the U.S's Columbia University financial economy department. He then became the youngest representative of the Sate Bank of the Southern Viet Nam in New York, among 60 representatives of other state banks in the U.S.

His father was Doctor Bui Kien Tin, creator of "Dr. Tin Eucalyptus Oil" brand which was well-known in the southern Viet Nam before 1975. "He was my guide in study and supported my mind when I had difficulties. It was good luck that I was bestowed a good father by god", Mr. Thanh said.

As he spoke of his father, the heart of grey-haired man became emotional. He felt deeply about his past, his destiny and his home country. He worries about Viet Nam's development and nurtures a great love for the homeland.

to the transnational projects

After banking, Bui Kien Thanh became a famous real estate businessman in France and owned property on a hill with French knights' ancient castles as pot where many visitors converged for sightseeing. Still he never forgot his fatherland from afar.

During the crisis of the Union of Soviet Socialist Republics (USSR) and Eastern Europe, Viet Nam didn't receive aid from the USSR. Through the Ministry of Foreign Affairs, Vietnamese Government sought out Mr. Thanh for consultation on arising problems about the economy.

Former Prime Minister Vo Van Kiet asked him to help support the Government's Department of Frontier study laws to defend Viet Nam's sovereignty in the Eastern Sea.

Playing the intermediary role, Bui Kien Thanh contacted the U.S. Ministry of Foreign Affairs and suggested the U.S government help Viet Nam attain a special document in removing embargos from the U.S.

The Washington lawfirm Convington and Burling then signed a contract with Viet Nam's government to study laws on Viet Nam's sovereignty in the Eastern Sea's continental shelf. This was fundamental in Viet Nam's solution to conflicts in the continental shelf later.

From this point on, Bui Kien Thanh was an indispensable person in the national community, a financial expert for large-scale projects in the country.

At present he is a public relations officer looking at investment in the Van Phong bay project in Nha Trang.
"Van Phong will become the biggest International Transship¬ment Port in Southeast-Asia." he said.
The project was approved by the government with the total investment capital of over US$100 million.
"Van Phong will be an economic complex in the distant future," he continued.

Viet Nam Maritime Administration (VMA) has invited him to consult on promoting the project's construction process and calling for U.S investors.

Thanks to Mr. Thanh, U.S ambassador Raymond F.Burghardt to Viet Nam personally made a survey in Van Phong bay and invited many big U.S companies to cooperate with Viet Nam on the project, many of whom have decided to do so.

Cautioning Viet Nam's development preparations

"We signed an agreement with U.S to move towards the WTO accession," he said. "That is a big opportunity for development, but it is also a great challenge. The danger of losing economic sovereignty is an actual threat. We should have early suitable methods and policies to develop the economy and face the developed countries' leading groups which will break into our market. Such main fields of finance, bank, insurance, transport, production, business, distribution, etc. will start to be expanded with 100% foreign-owned groups in 2007," he warmed.

For Mr. Thanh, WTO accession raises as many questions as it answers. He asked, "While leading world corporations with strong competitive potentials will crush domestic enterprises, how will we prepare? What policies have been issued by leaders to gather talents?"

"In the market economy, the key for development is capital. If all the factors - products, technology, human resources, etc - are gathered and the supply of capital cannot support the sum, then domestic enterprises will not reach their potential. To look for the source of capital, we should mobilize money in the public and international financial market. The remains can be supplied by the government through currency policy and banking system. The State must consolidate the banking system and clean up the commercial bank system, finance companies and stock investment companies," he added.

Leaving family and a glittering life in a foreign country, financial expert Bui Kien Thanh returned home to contribute his knowledge to the country's development. His love for fatherland is always in his heart.