Professor Tran Thanh Van is called a bridge linking Vietnamese scientists to the world. During the past ten years, he and his wife have been coming back to their homeland at least twice a year and have made many practical contributions to the country.
"No one can ever forget his homeland"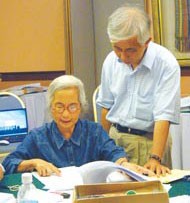 Pro. Tran Thanh Van and his wife in the fifth "Rencontres du Viet Nam" (Meeting Viet Nam) in Ha Noi, 2004.
In the past decade, the name of Professor Tran Thanh Van has become more and more familiar to many Vietnamese, especially within the scientist circle
The 70-year-old professor was born in Quang Binh province, North Central Coast of Viet Nam.
In 1953, he went to France at the age of seventeen to study and graduated from the University of Paris with two BAs in Physics and Math in 1956.
Only two years later, he successfully defended his Master thesis and started to work in Elementary Particle Physics industry in 1966, he became a PhD in the same year. From then on, he was not only lecturer at the University of Paris but also a senior researcher at the France's National Center for Scientific Research.
He was awarded the French Legion of Honor Medal by the French Government as well as the Honorable Academician title by the Russian Academy of Sciences.
It has been his achievements of over 300 thesis and 115 books concerning physics issues that gained him the international prestige in France and many European countries.
However, what makes him most respectable is his love for his homeland Viet Nam.
It was in the seventies of the 20th century that his idea of creating a necessary bridge between the Vietnamese scientists and the world was taking shape and received much support from Professor Nguyen Van Hieu.
The duos first met in the International Conference on Elementary Particle Physics in 1963 and later they became close friends.
In 1993, an organization namely "Rencontres du Viet Nam" (Meeting Viet Nam), led by the two professors as its co-chairmen, made debut and started operation.
To date, the organization has organized five meetings in the capital city of Ha Noi and Ho Chi Minh City. These meetings have drawn the participation of hundreds of famous astronomers and scientists working in the elementary particle physics field from all over the world.
"Without Van, the Rencontres du Viet Nam could not have been born", expressed Pro. Hieu.
Professor Trinh Xuan Thuan from the US said, "Not everyone – and even me- can have such a great contribution to the country like Mr. Van."
A diminutive spectacled lady with gray hair who has always been by Pro.Van's side is his wife, Pro. Le Kim Ngoc.
Talking about her husband, Pro.Ngoc tenderly expressed, "He is a person of honesty and straightforwardness, but very few word." And according to Pro.Van, without his wife, he can not do anything."
With the extraordinary skills in English, French and Vietnamese, she manages the Secretary Group in these meetings and also helps her husband organize his work schedule as well as the meetings, interviews and working visits of international scientists.
Mrs. Van was born in Vinh Long province. Like her husband, she went to France for study of molecule biology.
The couple first met each other when both were preparing for their Master thesis in 1958. They are not only at the same age but share a passionate love for science and for Viet Nam. In 1961, they married at the age of 25.
"We are simply like other Vietnamese who are living abroad. Wherever we are, Viet Nam is our homeland and all Vietnamese keep this in the back of their minds. No one can ever forget his homeland," once expressed Pro. Van.
SOS Children's Villages in Viet Nam and Odon Vallet Fund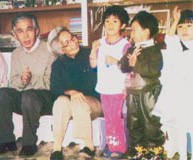 Pro. Tran Thanh Van and his wife in the SOS Children's Village in Da Lat province, 2002.
In 1970, the couple established the Support Association for Vietnamese Children in France and called for donations from the French government and various charity organizations in many countries to set up the SOS Children's Village in Viet Nam.
The village aims at collecting orphans in the entire country to become part of a common permanent home and family.
To collect enough money for the first village establishment, Mr. and Mrs. Van began by selling postcards at many churches and squares on every Saturday and Monday in Christmas season.
Despite the snow and cold wind of the Christmas time, the couple stood side by side for two seasons in 1970 and 1972. Their hard work and their aspiration deeply touched the Vietnamese community in Paris and many people joined them and thus, collected enough money to build up the first SOS Children's village in Da Lat province, Viet Nam, in 1972. The SOS Children's Village consists of 14 family houses with a capacity of housing 1,000 children.
In recent years, the couple has been devoting all their efforts to set up another village in Dong Hoi, Quang Binh province.
In addition to collecting donation worth hundreds of thousands of US$, Pro.Van also successfully lobbied the international SOS villages for further financial support.
"With its 12 existing villages, Viet Nam has an exceeding number compared with other countries, which means that the country has less opportunity to receive donation from the international SOS villages. However, with their great efforts, Pro.Van and his wife were successful in persuading us to help establish another one in Quang Binh province," said Helmut Kutin, International SOS Children's Village President.
Currently, the Dong Hoi SOS Children's Village is under construction. US$100,000 yearly donated by the Association for Vietnamese Children of Mr. and Mrs. Van will be spent for the village's operation.
Besides the said two villages, the association also sponsored for the establishment of another orphans' village named Thuy Xuan in the central Viet Nam's Hue City in 2001.
Moreover, in 2000, Mr. and Mrs. Van managed to persuade the French Professor Odon Vallet, who inherited over US$ 100 million from his father, to use all the money for launching the Odon Vallet Fund.
In 2001, 300 scholarships from the fund were granted to Vietnamese students and from then on the number of scholarship has steadily increased, from 300 in 2001 to 1,858 in 2005. The total money for scholarships in 2004 and 2005 valued at VND10 billion.
In a recent scholarship granting ceremony in September, 2005, Pro.Odon Vallet expressed, "I really admire what Mr. and Mrs. Van have been doing. They themselves have attracted me to the beautiful country of Viet Nam. They have done many things for their dear homeland."