A deep feeling warmed my heart when I recently visited a display held in the southern province of Bac Lieu, which displayed agricultural tools commonly used in the days of ploughs pulled by buffalo.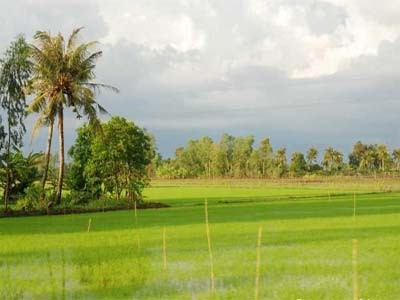 Morning in the fields of Bac Lieu province  (Photo: Nguoidulich)
When I placed my hands on the exhibits a sense of nostalgia washed over me I as I recalled my native village in a harvest season in the old days.
Lying along a small river, my village was a cluster of thatched-roofed cottages. When the day was coming to an end, with the glow of sunset in the sky, my village was covered with a vague fog that comes from some kitchens or burnt stacks of straw in empty fields.
In the rainy seasons, fields were covered with water and the croaking of frogs was heard in the evening rains. During the dry seasons, fields were barren and villagers dreamed of rainy days.
My village started the new crops as soon as the rainy season started. Sometimes as early as 4 am, the village resounded with scythes cutting grass.
The thin scythes and rakes in those days are the same as those displayed at the display. One can also see a tool for sowing, with which farmers created a hole in the hard soil into which paddy plants were sown.
In those days, farming was all toil and would bring in low yield, with just eight to ten bushels of rice per 1,000 square meters seen as a good crop.
There were years when rice fields were contaminated with saltwater, rice plants covered with white as if they were flags of surrender at half-mast.
I could not forget the image of my mother with a basket under her arms sadly stepping out to the field in the days leading to Tet. She gleaned rice among clumps of spikerush on the field hoping that she could earn some money to buy something for us to celebrate Tet.
Those gleaned grains of rice were of poor quality but it was those "pearls from the soil" that fed us in days of poverty.
Now whenever I sit at a table of delicacies I always think about the poor village where I and my family experienced days of toil and moil.
This village has now turned to aquaculture as a new livelihood. Old fields have been transformed into shrimp pools and old gardens have faded due to saltwater contamination.
Every year when I come back to the village, I always visit my family's old field to have a moment with my thoughts, of living with my memories.