For 37 years now, Le Linh Thin, 70, teacher of a literacy class in Cau Ngang Town, Cau Ngang District, Mekong Delta Province of Tra Vinh, has collected more than 1,700 photos of Uncle Ho.

The photos, demonstrating Uncle Ho's life, have been cut or photocopied from local and international newspapers or magazines and kept in 14 albums in chronological order.

Found among them are photos of Uncle Ho when he was in Tay Bac, with children or with students coming from the South, reading the Declaration of Independence and living in Russia.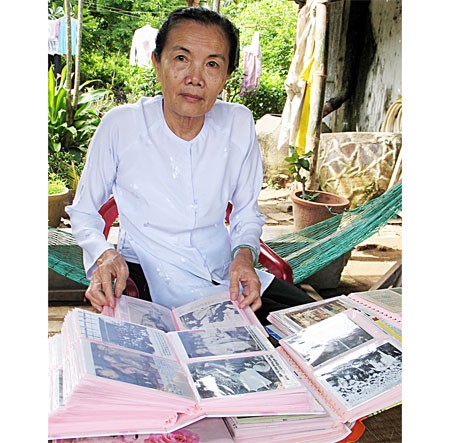 Ms. Le Linh Thin and albums of Uncle Ho
Aside from the collected photos, Ms. Thin also has a showcase in which she keeps magazine and newspaper articles about the late President. Also found in the showcase are valuable materials of a similar theme.

Explaining how she could collect so many photos and materials, Ms. Thin said, "When I've learned that a person owns materials about or photos of Uncle Ho that I don't have, I will find way to his home and ask him to let me make a duplicate of them for my collection."

"Recently one of my friends in Hanoi, who had been at the Dien Bien Phu battle, sent 190 photos of Uncle Ho to me as a precious gift for my collection. No word can express my deep gratitude to her," she added.

Thin was a teacher and retired in 1990.

Talking about her noble deed, she said, "Many children in the town cannot go to kindergartens because of their families' financial difficulties. Such children always start their first grade with difficulties because they lag behind their classmates who have been entitled to preschool education, and thus drop out of their class after all as a result."

"I've opened this class to help pupils in such a plight. This class has been recognized as one of first-grade classes of Cau Ngang Elementary School," she added.

Every year, between 15 and 30 pupils are admitted into Ms. Thin's class. When the school year finishes, the kids are transferred to Cau Ngang Elementary School to begin their second-grade class.