A retired teacher, preoccupied with the studying of needy pupils in his neighboring quarter, has helped poor pupils for 12 years.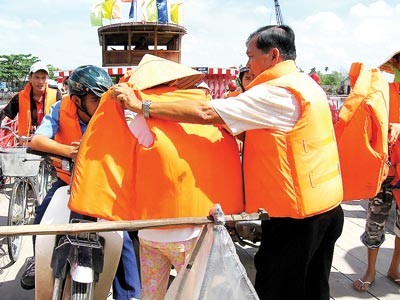 The retired teacher helps passengers to wear life jackets (Photo: SGGP)
The 70 year old teacher, Nguyen Thanh Hoa, in District 2 had taught junior school for 30 years. He came from a poor family and took various jobs to earn a living. Subsequently, he is very sympathetic to disadvantaged students, especially those in distant areas, who strive to attend school.  
To lend a hand to deprived children, who must pay to be ferried across every time they go to school, the retired teacher bought an old boat in 1996 to carry them for free. Because the boat is too small, he has to get up early to make several trips.
Due to increasing residents' demands of traveling on the river, he has applied for a business certificate to open a ferry port. He has asked the bank for a loan of VND300 million to build a larger boat. However, he still offers free transportation to pupils, students, the elderly and infirm. 
Sixth-grader Le Thi Thanh Vi said that she travels four times a day across the river but does not pay; moreover, Mr. Hoa requires passengers to wear life jackets.  
A street vendor, Le Thi Ut, praised him for his love for the poor. 
Mr. Hoa just said he loved teaching. After retirement, he feels sad as he no longer teaches pupils; consequently, he chooses to help them in another way. He considers helping pupils as a contribution to building the country.