Back in 1987, the Californian city of Stockton presented Dang Xuan Nghia with a golden key for being entrepreneur of the year. It was the first time a Vietnamese expatriate had received the honor.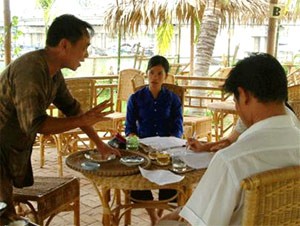 Mr. Nghia (L) talks with his employees at his tourist villiage by the Hoai River in Hoi An
It was a long way to come for Nghia, originally a small-time peasant in rural Viet Nam. But it was just this aspect of his character - the countryside - that he never let go of and has always kept him afloat in life.
Nghia carries Vietnamese-village roots with him wherever he goes as even his Vietnamese friends and associates in America know him by his rural nickname Cu Ty. "In the USA, I still use my nickname to recall the homeland. I use 'Cu Ty' as my business name," says Mr. Nghia.
The name keeps him close to home with its countryside meaning--"rat"—as Vietnamese countryside nicknames are traditionally vulgar to ward off evil spirits who like more beautiful names.
Of course, the tradition is old and outdated, and needless to say Nghia and most others don't really believe it anymore, but it is just one of the many ways that Nghia remained an old-style Vietnamese at hear, still tied to the land even when he ran business empires in America.
Nowadays he lives in Viet Nam again, where he has built a tourist village by the Hoai River in Hoi An, the historic coastal town in Quang Nam province.
 
In his brown clothes and wooden clogs, he looks like a real farmer with a simple and gentle bearing as he carries a rush bag to market every day. Hoi An's residents have been seeing him this way for over six years now.
 
An expat's story
 
His life has not been easy. When he was a child, he had to catch crabs and snails for food; sometimes he had to eat maniocs and sweet potatoes instead of rice. His mother toiled year-round to make his schooling possible.
 
Finally, he earned a degree in pharmacology, realizing a dream that many families cherish in Quang Nam's Dien Ban District.
 
After the war ended in 1975, he moved to Sai Gon to be a school teacher. Four years later he fled the country's desperate economic conditions in search of a better life across the Pacific.
 
But he never stopped loving his home in Viet Nam. Reminiscing on those long-ago days, he says, "Everything I did was dictated by circumstance. Living in a foreign land, I felt only sorrow. There is no place like the homeland!"
 
In America he worked and studied up to 16 hours a day to get ahead, beginning with washing dishes in restaurants, then cleaning, picking fruit, babysitting, cutting grass, and other menial work all over the USA. "I had about 10 jobs within four years," he said.
 
After getting used to the new land and learning the ways of American business, he invested all his savings plus some money from friends to start up a food wholesaling business called Ifsco in San Jose, California in 1984.
 
Retaining a 51% share of the business, he began to expand and within three years had set up a chain of restaurants in several cities.
 
In 1995, he worked with the Viet Nam Exhibition and Fair Centre (VEFAC) and Viet Nam's Ministry of Culture and Information to compile and publish the English-language Vietnamese Business to Business Directory so that business people in other countries could learn about the commercial possibilities in Viet Nam.
 
Simultaneously, he started up three English schools in Ho Chi Minh City to, in his words, "contribute to training manpower for economic integration."
 
Rebuilding long-gone Viet Nam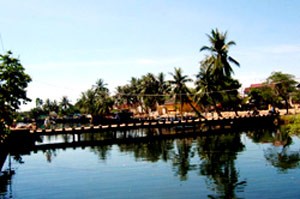 Hoai River
In 1999, hearing the news of terrible floods in Quang Nam, Nghia and seven physicians immediately flew to Viet Nam from the U.S. with relief worth tens of thousands of dollars.
 
He took the opportunity to revisit his old stomping grounds in Hoi An. As he was wandering through the nearby village of Cam Nam, he spotted a piece of unused land by the Hoai River. The land had only old stubble on it but it inspired something in Nghia. He decided then and there that he wanted to do something the forgotten land; he wanted to forge something out of nothing, bring the dead land back to life.
 
So he decided he would try to bring back the old Viet Nam and create a place where what once was could still be. He decided he would build something from scratch, start form the very beginning with nothing and create something great. He now new he wanted to rebuild a small piece of ancient Hoi An.
Nghia took his idea straight to the town authorities. Nguyen Su, chairman of the Hoi An People's Committee at the time, looked at him with surprise and said, "No one has shown any interest in that land! Well, if you want it, the town will give it to you. But do you think you can make money from it?"
Three months later, he went back to Hoi An to begin building a tourist village on the stagnant land by the river with help from the old farmers who lived in a traditional village nearby.
Fours years later there were 21 occupational villages sharing 1.2 hectares of land with a temple, wells, banyan trees, clumps of bamboo, paddy fields, mulberry gardens, tea shops and a classroom where old scholars teach the Chinese script.
The inhabitants make cakes, do traditional jobs and wear brown plain clothes made of cotton from Duy Xuyen handcraft village.
Nghia has also built a model 19th-century village next to the old quarter of Hoi An as the centerpiece of his tourist park.
Around the park are signs in Chinese that translate as: "Our ancestors were the country's founders; we must preserve their heritage to show our gratitude."
"I have sold all of my property in the U.S. to invest in the village. My wish is to use some of the profits to pay the village farmers' salaries and the rest to build a home for old people. When I am no longer a farmer here, I will live in the old people's home with others until the end of my life," he said.
Talking about Mr. Nghia, Mr. Nguyen Su says he doubted Nghia could pull it off, even after the venture started. It wasn't until the Vietnamese village opened to the public and hundreds of thousands of foreigners and Vietnamese came to see it that Mr. Su's opinion of the rustic turned to admiration and respect.
"Mr. Nghia's heart and vision are an example of a new outlook on economic and social development. It is not necessary to be in a faraway country; we can still make money from stubble lands and fields," said Mr. Su.