Whenever the national anthem plays, Vietnamese people place their right hand over their left chest as a gesture of love, respect and reverence to their country.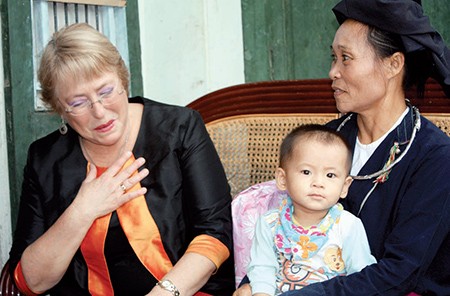 Michelle Bachelet expresses her love to Vietnam by putting her right hand on the left chest
International friends too imitate this gesture to show their love and respect for this Southeast Asian nation which has left a profound and lasting impact on their lives.
Ms. Bachelet, former president of Chile and  head of United Nations Women (UN Women), the newly created UN Entity for Gender Equality and the Empowerment of Women which officially started operations on the first day of 2011, chose Viet Nam as her first port of call after she was appointed to her new post earlier this year.
Ms. Bachelet served as President of Chile from 2006 to 2010.  A long time champion of women's rights, she has advocated gender equality and women's empowerment throughout her career.  One of her major successes was her decision to save billions of dollars in revenue by introducing a pension reform fund which guaranteed social protection for women and children despite any event of a financial crisis. This involved tripling the number of free early child-care centers for low-income families and the completion of some 3,500 child-care centers around the country.
She has worked hard with Government leaders and officials to implement the UN social protection scheme which is expected to be a powerful tool in helping Vietnam achieve the objectives outlined in its social protection strategy.
She chose to visit the northern province of Vinh Phuc because it is one of the many provinces that have successfully set up a Vietnamese Women's Union initiative known as Tao Yeu May (TYM or I Love You).
In her speech to the San Diu ethnic minority group and the rural women of An Binh village in Vinh Phuc, Ms. Bachelet emphasized that she had come to ensure that the UN continues to support Vietnamese women. She believed that it was difficult for women to be successful both in the workplace and at home because it required much effort and was time consuming.

She recollected when she was a medic, she was told by a young girl about her dream of becoming a doctor and another girl who dreamed of becoming a president like herself. She thought that women had every right to dream and follow a life of their choice.
Ms. Bachelet stressed that each woman should endeavor to better herself to live a more meaningful life and advised ethnic minority women to maintain solidarity amongst each other and a share a common spirit to find success.
International Labor Organization (ILO) estimated the figure of unemployed women around the globe to be 18.7 million as a result of the economic and financial downturn. Immigrant laborers especially felt the effects of the downturn in Southeast Asia and South Asia.
All throughout her talks with rural women and ethnic minorities, Ms. Bachelet kept her right hand on her left chest over her heart, to express her love for Vietnamese women.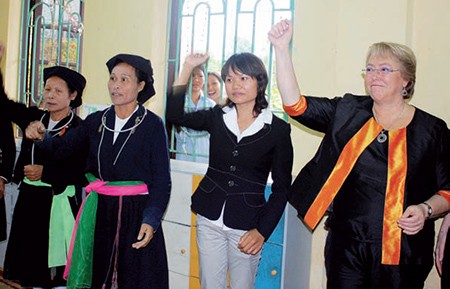 Michelle Bachelet and San Diu women show their determination to overcome their difficulties
Another man who is well known to many Vietnamese correspondents is Peter Prufert, former director of the International Institute for Journalism (IIJ), now known as Capacity Building International (InWEnt).
He was a German national and a skilled writer. He had trained many Vietnamese journalists in their careers in his center, IIJ. He also helped journalists familiarize themselves in the ways of the western society.
He not only helped journalists in the art of writing but also created favorable conditions for reporters to discover the life and culture in Germany, where they studied.
Whenever he accompanied journalists to visit cities in his country, he always chose restaurants run by Vietnamese people since he feared the Vietnamese journalists would not take to German food.
He loved and respected this Southeast Asian nation very much. At the mention of Cu Chi tunnel his eyes would flash with respect and admiration. He showed concern over the construction of Van Thanh Bridge and expressed his pure joy and excitement when touring Ho Chi Minh City on a cyclo.

Vietnamese journalists remembered many things about Peter when he passed away, but the most familiar image was the one when he placed his right hand over his left chest when he spoke of Vietnam, his beloved country.
Dr. Harley Stanton, President of Asia Pacific Association for the Control of Tobacco (APACT) narrated to journalists gathered from all corners of the globe, about an incident on an ancient street near Hoan Kiem Lake in Hanoi where he witnessed tobacco sellers concealing foreign-made cigarettes in bags or glass sideboards which they sold illegally only to those who asked for them.
APACT's president expressed his concern of the effects of smoking on the health of Vietnamese laborers as 55.9 percent of them (or nearly 8 million people) were exposed to cigarettes in workplaces.
Therefore the mission of journalists must be to write continuously about the harmful effects of smoking and most of all follow the same example as well.
After talking to journalists in Cockle Bay Wharf in Sydney, Harley promised to return to Vietnam to see the country's efforts to fight smoking and whether traders on the ancient street were still selling cigarettes illegally. When he returned to Vietnam he expressed his joy by placing his right hand over his left chest as if to say that Vietnam was in his heart!