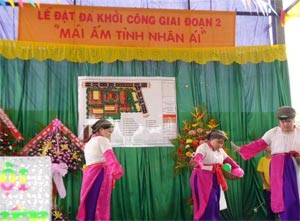 Children with Down's syndrome of the ECHC perform at the ground-breaking ceremony. (Photo:TK)
On the occasion of Buddha's 2550th birthday, the Buddhism Representative-board under the Ho Chi Minh City Buddhism Association officially starts its construction of a social sponsoring center in Dong Nai province on May 14, aiming at caring the old, handicapped children and providing medical treatment for free of charge.
Located on an area of 14 kilometers in Xuan Loc District of the southern province of Dong Nai, the social sponsoring center, namely "Roof of Human Love", is expected to receive a total investment of about VND10.5 billion funded by local and overseas patrons.
The center will be constructed in two years and when finished, it will take care of the shorthanded elder people, offering welfare supports, educational and vocational training to disabled children.
Especially, the center will include a medical consulting-room which will provide necessary oriental and western treatment for the beneficiaries and the local people.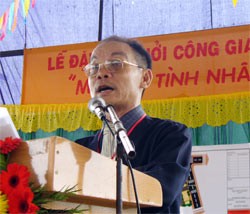 Mr. Le Khac Chieu, Vice Chairman of the "Roof of Human Love" Center. (Photo:TK)
In fact, according to Mr. Le Khac Chieu, Vice Chairman of "Roof of Human Love" Center, this is the second phase of the construction when some infrastructural works have been carried out since October 2005.
"Despite some obstacles in mobilizing financial supports for the center's activities, we do hope that the new center will be a roof of human love for poor people and disabled children. Besides, we will be very grateful if there are other benefactors who want to contribute to the center's programs," he said.
The establishment of "Roof of Human Love" center was a result of efforts to call for donations by the Linh Quang Pagoda, headed by Superior Monk Thich Tu Giang, Mr. Chieu added.
At the ground-breaking ceremony for the new center, Superior Monk Thich Tu Giang said, "To diminish disabled children's misfortune and help them integrate into communities is our dream. Thus, I believe our "Roof of Human Love" will be another motivation for all kinds of people to come with responsibilities and help the children."
Another "Roof of Human Love"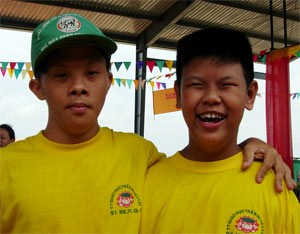 More smiles will be seen on these children's faces with the help of charitable education centers. (Photo:TK)
Currently, Superior Monk Thich Tu Giang is also the director of the Education Center for Handicapped Children (ECHC) in District 4, which is taking care of over 100 handicapped children, aged 6 -18.
These children are of slow mental development, less of physical movement, epilepsy and malnutrition, Down's syndrome, deaf mute.
Established in 1989 by Superior Monk Thich Tu Giang, the center is a Buddhist charitable organization, which helps treat the children's diseases and assist with their mental ability rehabilitation.
The center also improves their health and self-esteem via many suitable activities including sports and recreational activities, increasing their self-care skills and vocational training programs. Besides, the center observes the children after getting reunion with their families as well as integration into the community.