It's hard to believe that a farmer with 17 patents granted by the Ministry of Science & Technology and the World Intellectual Property Organization is not an engineer, but merely a high school graduate…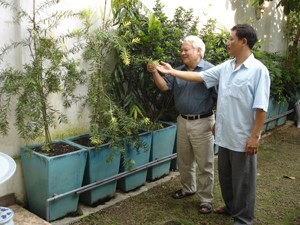 Mr. Ngoc with his self-watering pots
Born in a poor village of Phu Cat District in Binh Dinh, a province in the south-central coastal region of Viet Nam, Mr. Nguyen Quang Ngoc, 40, is considered by many people to be a true scholar who can hold forth on philosophy, mathematics, the laws of physics, scientific achievements, and even the biographies of famous scientists from all over the world.
Having grown up in a farming family, Mr. Ngoc has a strong attachment to nature and is fond of learning about the nutritional needs and growing process of plants. In 1988, Mr. Ngoc and some of his friends went to Dac Lac to set up a plantation for growing industrial trees so he could indulge in cultivation.
Quicker Coffee
Mr. Ngoc applied several growing techniques to his trees, but to no avail. Ironically, he first become known locally for the disposable coffee filter, his first invention, which had nothing to do with nature or vegetation.
One day in 1992, Mr. Ngoc stopped by a coffee shop in Dac Lac for a drink. While watching a traditional stainless-steel coffee filter washed for repeated use, an idea immediately flashed across his mind, "Why not try to make disposable coffee filters so that drinkers don't have to waste time washing them after drinking their coffee?"
Mr. Ngoc spent nearly five years working on this idea. Finally, he created a non-toxic plastic that can be used instead of stainless steel. The invention made its debut in June 2006.
Mr. Ngoc's plastic filters have the same design as traditional ones, but they have coffee powder, sugar and milk in pressed cakes inside the filter. To enjoy a delicious cup of coffee, a drinker puts the filter on a cup, pours some boiling water into the filter and waits for five minutes until the coffee in the filter drips down into the cup. After finishing his cup of coffee, the drinker can throw the filter into a trash bin.
A disposable coffee filter only costs VND1,000. The Ministry of Science and Technology has granted a patent for the idea.
Inspired by this success, Mr. Ngoc continued to work on other inventions. He came up with a plough driven by geological vibration, an automatic plant feeding system, and a plant moisture retainer.
All of them have been highly appreciated by farmers nationwide as they not only reduce the labor demanded of farmers, but also speed up plant growth by improving their nutritional intake.
Mr. Ngoc said that he is keen on inventions that facilitate planting in areas that have harsh climates of are in difficult terrain such as in deserts and mountainous areas, in wastelands or even on the walls and roofs of houses.
The Pot that Plants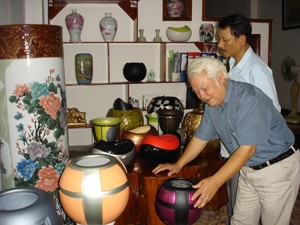 A variety of pots invented by Ngoc to nurture plants
Last year, Mr. Ngoc unveiled an invention that waters and fertilizes plants automatically, called "Naturally Pure Pot for Planting." Mr. Ngoc spent more than five years working on this invention, he said. The Pure Pot is ventilated to allow air to get to the plant's leaves. It automatically supplies water, fertilizer and minerals to the plants, thusly allowing them to grow using less labor from farmers.
Mr. Ngoc's self-watering system has been granted a patent by the Ministry of Science and Technology. It also won a patent from the World Intellectual Property Organization.
The Green Earth Limited Company, which specializes in eco-friendly products based in Ho Chi Minh City, has bought the right to market the Naturally Pure Pot for Planting and will export the product to Europe and America by the end of the year.