Moscow is beautiful in the summertime and the brilliant sunshine shimmers over the silver poplars. In that city is a man who misses Viet Nam, someone with deep-rooted memories of forty years ago. He is Lev Víchtorovích Tririkin, a 65-year-old Russian who spent 1973 and 1974 in Viet Nam and helped build the Ho Chi Minh Mausoleum in Ha Noi.

Viet Nam in his heart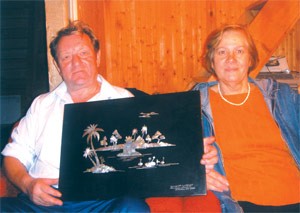 Lev and his wife with a lacquer painting presented by the Government of the Democratic Republic of Viet Nam in 1969
It is always nice to meet a Russian who has been to Viet Nam and hear them reminisce and tell of their beautiful memories and surprising discoveries that few Vietnamese can realize.

Lev's family lives in a suburb of Moscow. One day in August, when some Vietnamese visited his home, he, his wife and their two children welcomed them warmly and uttered in Vietnamese "Chao dong chi" ("hello, comrades"). He looked pensive upon hearing the phrase "Chao dong chi Tririkin" as no one had addressed him as "dong chi" for a long, long time.

Viet Nam is always in his heart. Whenever he hears mention of the late President Ho Chi Minh, he puts his hand on his heart though he never met Uncle Ho.

In tears he said how much he loved Viet Nam and Ho Chi Minh and told of the hardship he witnessed in the Viet Nam War and the destruction of the country's north.

Lev first came to Viet Nam in 1968, when he was 27 years old, to help build the Thac Ba hydroelectric dam. Living far away from his wife and their five-year-old son, he felt homesick night after night.

As a guest engineer he was given everything but in his selfless way Lev shared what he had with his Vietnamese colleagues, who were suffering the deprivations of war.

He spoke proudly about Ha Long Bay and the visits to Thac Ba by Viet Nam's prime minister of the time, Pham Van Dong.

With good memories of Viet Nam, he returned several years later to help build the Ho Chi Minh Mausoleum in Ha Noi.

His job was to do the lighting so that it would illuminate the remains of Uncle Ho and give the impression of a ruddy and healthy cadaver, as though he were sleeping.

Lev was humble when talking about his work. "Uncle Ho's great sacrifice for Viet Nam's liberation must not be forgotten by anyone. History has to be respected. Viet Nam should not allow a repeat of what happened to Lenin."

Nostalgic for Viet Nam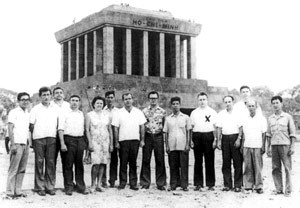 Lev (x) and his colleagues at Ho Chi Minh Mausoleum
His wife looked very glad as he sang a Vietnamese folk song. It had been a long time since her husband was so happy.

Back in 1975, when he heard that the war in Viet Nam was over, Lev had hugged his wife and cried happily for Viet Nam.

They have long dreamed of going to Viet Nam and seeing Ha Noi and the mausoleum again, returning to Thac Ba Dam, visiting Ho Chi Minh City and drinking the juice of boiled bindweed pickled with Ha Noi Sapindus.

"After Viet Nam, I went to Afghanistan in 1979 to work as an engineer for a few years. I missed Viet Nam and wanted to go back there very much. But I did not have the opportunity."

Invited to visit Viet Nam, he and his wife were very happy and promised to come this December. "My nostalgia for Viet Nam is now expressed and my heart is happy again!" he said.

In response to a suggestion that he take some silver poplars from his garden to plant symbolically in Viet Nam, the honest and respectful Russian cried and looked towards the distant silver poplar forest as if reliving the days when he grew so fond of the distant land.