The coastal city of Vung Tau in southern Vietnam houses a Russian Village for Russians living there and working for the Russian-Vietnamese oil and gas joint venture Vietsovpetro, which is now Vietnam-Russia Joint Venture.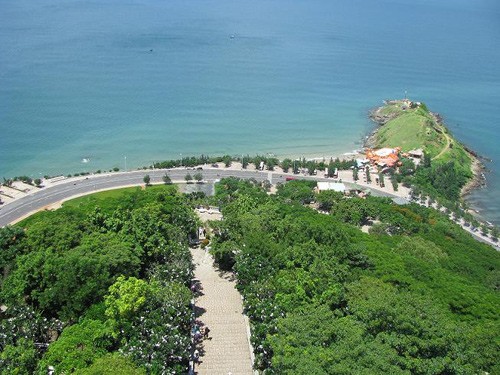 (File) A corner of Vung Tau City
Vung Tau residents call the village "the five-level quarter" as the Russians live in a five-storey serviced apartment building. Early 1980s, then Vietnamese Ministry of Construction built it for former Soviet petroleum engineers, experts and workers to live in as they were working for Vietsovpetro.
The quarter includes a school, clinic, stadium, park, shops, cultural house and other facilities. It is said that the Russians have been living there for over 30 years, and they consider the village as their second hometown.
A work term at Vietsovpetro lasted three years but many of the Russians have worked for the joint venture over some terms because of their love for Vietnam as well as Vung Tau. Some of them can speak Vietnamese and communicate with the locals easily. The husbands in the village work on oilrigs off Vung Tau, their wives and children stay in the village. The children go to school there.
The Russian expats welcome the New Year, new spring together with the locals. When the Lunar New Year (Tet) holidays come, Vung Tau is full of flowers. The main streets are flooded with flowers and ornamental trees. Fruits from all parts of Vietnam are also present. The Russian expats join the locals for Tet shopping, for both New Year and Lunar New Year holidays. Vietnamese culture and Russian culture are blended.
I was a graduate in Russia and had been working in Russia for 8 years. I know that Russians love to come to see Vietnamese countryside and get to know Vietnamese traditions. I also served as a tour guide for the Russian Village's residents during their tourist trips in Vietnam and outside. They told me they all missed Vung Tau as their homeland. The Russians say Vung Tau is a beautiful beach city that witnesses changes everyday.
Irina, a Russian wife at the village, says that during her first days in Vung Tau, she was tired of many motorcycles in the street but has already been used to the city's tempo.
Shops near the Russian Village have both Vietnamese and Russian on their signs, and the sellers can speak some Russian. The Russians appraise Vietnamese dishes and they share holiday spirit with the locals during holidays, together with Russian Vodka or Saigon Beer in a friendship atmosphere.
A new year has come with a new spring. The Russian expats in Vung Tau see sunshine in a Vietnam spring and feel an established friendship from Vung Tau residents in particular and the Vietnamese people in general.