In the 300 years since its establishment, Ho Chi Minh City has become a center of business, science, technology, culture, arts and entertainment, but still retains its quintessential traditional features.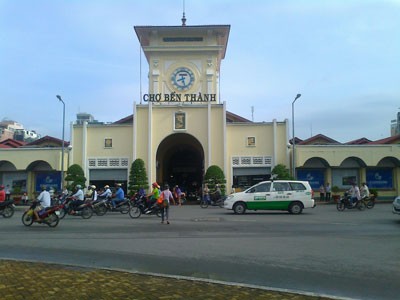 Ben Thanh Market ( Photo: Cat Tuong)
When people think of Ho Chi Minh City, they don't just imagine a hustling bustling city, but know that it has ancient markets which are characteristic of Vietnamese culture and people.
Many of these traditional markets are listed in the City's 100 Most Exciting Things To Do Program, which aims to promote the image and tourism in the City.
Ben Thanh Market
Ben Thanh Market was constructed by the Brossard et Maupin Construction Company in 1912. It was earlier called New Market or Saigon Market to distinguish it from Old Market. After 1957, it was renamed Ben Thanh Market.
Ben Thanh Market has four entrances and four segments with a roof clock tower and overlooks four main streets of District 1. At present, the market has more than 3,000 stalls that sell wholesale and retail items from food to luxury goods.
Binh Tay Market

Binh Tay Market or Cho Lon was donated by a Chinese trader named Guo Dam. Cho Lon is where people of Chinese origin live.
The market was built as per western architecture but with bold Chinese influence. It has a high rise tower and four clock faces. The four corners have four small huts, with roof tiles in yang style overlaid to provide ventilation. In the center of the market stands a statue of Guo Dam. The market only sells goods wholesale.
Tan Dinh Market

Tan Dinh Market was built in 1926 in a classical architectural style and is the City's historical monument. It is known as a location where cheap scraps of fabric sell.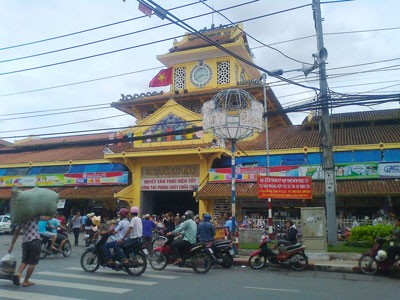 Binh Tay Market (Photo: Cat Tuong)
Soai Kinh Lam Fabric Market

Soai Kinh Lam Fabric Market or Dong Khanh Department Store in Tran Hung Dao Street in District 5 is a big fabric market with nearly 500 stalls.There is an endless selection of silks, suit material, cotton for shirts, and material for curtains, corduroy, tartans, and denim. You can get lots of outrageously bright, highly-patterned material here.
The characteristic of the market is that each stall sells a certain kind of material with different colors and designs.
Kim Bien Market

Kim Bien Market was set up in the 1960s in District 5. At first the market organized activities to exchange and sell foreign currencies and commodities used in the army.
After Reunification Day on April 30, 1975, traders had to hire a stall in the market to sell commodities such as telephone accessories, computers, sunglasses, cosmetics, toys, labor protective clothing and chemicals used in industry and food processing.