Living in Social Sponsoring Center of Ben Tre Province, Mrs. Pham Thi Ni (nicknamed Sau Hoa) is a seventy-five-year-old retired soldier who lives off VND3,000 (approximately US$0.2) a day, whilst she saves the rest of her pension to help the poor.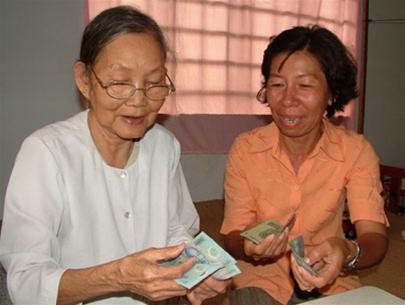 Mrs. Pham Thi Ni (left) saves money to support a seven-year-old cardio-patient
Widowed only two years after her marriage to a soldier in 1951, Sau Hoa since decided to devote her life to the national revolution.

When she retired, the Ben Tre authorities provided her with a small house for her old age but she immediately sold it for VND40 million (approx. US$2,500) and used all the money for charity.

She spent VND20 million (approx. US$1,250) to build a nursery school in Chau Binh Commune of Giong Trom District, Ben Tre Province.

Having learnt about the difficult life of grade 7 schoolgirl, Huynh Thi Trang, who is blind in one eye and lives with her ninety-year-old grandmother, Sau Hoa decided to take them clothes and other gifts and has since sent them some rice and money every month to help them in their struggle.

Sau Hoa also helps Le Thi Hong Yen who lives with her blind grandmother in Tam Phuoc Commune in Ben Tre Province. Yen is one of the young people who are disabled because of the effects of dioxin poisoning. Upon hearing their story on the television, Mrs. Sau Hoa immediately visited their home, to offer them her support. She now sends them too monthly donations of rice and money.

Not only has she strived to do all that she can with her own money, she also tries to encourage others and make people more aware of the situation facing many poor families across Viet Nam; to help poor students in Quoi Thanh Commune of Chau Thanh District, she asked the authorities' permission to send them some money and notebooks.

Having spent all her money on charity by early 2000, Sau Hoa asked for a room in the Social Housing Center. Although before moving there, she donated all her valuable property including an one-hundred-year-old settee, a two-hundred-year-old copper thurible and many other antique dishes, bowls and plates to the Ben Tre Museum.

Her monthly pension of over VND2 million (approximately US$130) is spent on helping the poor, leaving only VND100,000 (approximately US$7) for herself.

Recently, she provided housing supports to Mrs. Hue and her three children in an attempt to help them have their own accommodation, and she is now planning to save VND10 million (approximately US$630) to support a seven-year-old cardio-patient in Thanh Phu District.

Planning to continue her good work from beyond the grave, Sau Hoa has decided to donate her body to medical research, explaining that many of her companions in arms had laid down their life for their country but she has already had a long life, when she dies she wants her body to be used for medical research.

Her most treasured possession is a collection of over 200 poems that she has been composing since 1961. She intends to have it sent to Ben Tre Museum upon her death, because it contains accounts of events she has witnessed since the period of war until now. Through the good and bad events in her poems, she always reminds herself to lead an honest life.