An unusual game, the sitting tug-of-war, has been listed as a National Intangible Heritage by the Ministry of Culture, Sports and Tourism.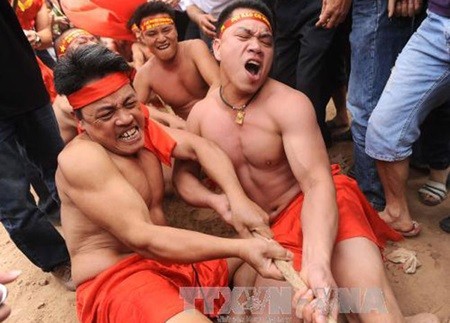 Heave: Male villagers take part in a tug-of-war ceremony, which has been listed as a National Intangible Heritage by the Ministry of Culture, Sports and Tourism. — VNA/VNS Photo
Residents of Thach Ban Commune in Ha Noi's Long Bien District and officials of the municipal Department of Culture, Sports and Tourism celebrated the recognition on April 21, which coincided with the Tran Vu Festival, where the game, a ceremonial performance, is typically held.
The Tran Vu Festival is celebrated on the third day of the third lunar month.
Ngo Quang Khai, the head of the managing board of Tran Vu Temple, said the legend is that the village used to suffer from such severe drought that conflict often broke out between the young men of three hamlets, Duong (which is currently Thach Ban Commune), Cho and Dia. It is from the ensuing pulling of water buckets that the game was drawn.
The first sitting tug-of war competition took place at Duong Commune. Before the contest, the youth of Duong Commune offered flowers and other things to the deity of the Tran Vu Temple. They won the competition that year, the village enjoyed a bumper crop, and the villagers enjoyed good health and prosperity.
Khai said the game was not played during the war and for more than a decade after national reunification. In 1989, the villagers restored the event and held it on the same day of the local festival.
In the game, two teams sit on the ground and tug a rope over 30 metres long that is passed through a hole in a wooden pole fixed firmly in the ground.
The game symbolizes the desire of farmers for good luck, bumper crops and favourable weather conditions. It also reinforces and renews social relationships and strengthens communal solidarity. Therefore, the focus is not on winning but on enjoying the game thoroughly.
Associate Professor Nguyen Van Huy, member of National Heritage Council, said the sitting tug-of-war held in Thach Ban Village was a ceremonial performance.
The pole in the middle symbolises the linga, or male virility and the tugging back and forth denotes the longing for growing and bumper crops, so the participants are very happy and enthusiastic about joining the game.
According to Huy the game in Thach Ban Commune still maintains its originality and spiritual meanings as it is preserved within its unique festive space.
In a ceremony commemorating the recognition, it was revealed that the Ministry of Culture, Sports and Tourism is co-operating with other nations that have a similar tradition to have UNESCO recognise it as a multinational cultural intangible heritage of humankind in 2015.