A sixteen-year-old Hanoian girl composed "Choi Het Minh" (Enjoy Your Life and Do Your Best), which has been selected as the official song of the Asian Cup 2007 football tournament.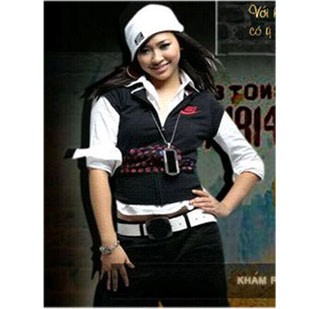 The teen rapper Kim wins the hearts of young Asian Cup fans with Choi Het Minh
The teen rapper, under her hip-hop stage name Kim, performed the song and won the hearts of the young Asian Cup fans.
Whilst talking about the song, Kim said it took her two days to write and explained what it means; "I wrote the song to share my thoughts with young Vietnamese that they should try their best to face challenges and enjoy life and I also want to tell myself that I must overcome obstacles to achieve success."
Beginning her hip-hop and R&B music career when thirteen, teen rapper Kim has won the love of audiences with her impressive performances.
Two years on, she became the youngest rapper in the local music market and she has both composed and performed during many big music events and for TV shows in Ha Noi and Ho Chi Minh City.
Last year, Kim's first album, Vol. 1 Kim, featured rap and R&B songs that proved popular with the local youth. She has also featured in programs on VTV6 and other local channels.
She has signed a three-year contract with the music and entertainment company Minh Nam.
Some international newspaper articles have described her as a young Vietnamese talent who is dynamic and has a great passion for music.