To over 1,200 farmers in Binh Chanh District, their man might be small in size but he is a tower of strength nevertheless. They put their trust in him and value his readiness to give invaluable advice on all aspects of farming.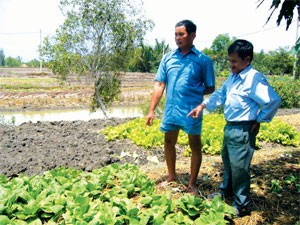 Hue (right) is giving advice on farming to a farmer
From a distance, 50-year-old Vo Van Hue looks like a tiny mushroom amid the vast expanse of paddy. He is only 140 centimeters tall. His late parents were farmers whom he would help in the fields after school. No matter how busy he was with the farm work, Hue would always set aside enough time for diligent study and was rewarded with good grades throughout his formal schooling.
In 1995 Hue became vice chairman of his commune's farmers association. The farmers thereabouts trust him because he knows their difficulties and what they must do to protect or improve their crops. His timely advice comes from a profound knowledge and wealth of experience.
Let's watch this small man as he goes through a tireless working day. He gets up at cock-crow to light a fire for his rice pot. This habit of eating rice for breakfast has remained throughout his life even though he is now a cadre who has to cope with a heavy workload every day.
After breakfast, he gets on his bike and cycles straight to the office of the People's Committee of Tan Nhut Commune, where he is going to give a lesson on raising Asiatic knife fish and growing new varieties of rice in a cost-efficient way to a group of farmers.
After class is over, he drives around the commune to see if anything is wrong with the VAC model or the rice fields of other farmers so that he can help them before anything serious happens.  Along the way he stops at a fishpond to collect water for a test.
Nguyen Thanh Hoa, a farmer in Hamlet 1, tells about how his rice was saved from the devastation of brown plant hoppers. He was inside his house when he heard Hue yelling outside. He ran out to see his paddy blanketed with the insects. Hue told him to pour used oil into the water at once and then spray a mixture of water and waste motor oil onto the rice plants to make the hoppers fall off.
Hoa says the simple remedy worked as his rice was out of danger shortly afterwards.
Afternoon is the time for Hue to tend his own 1.6 hectares of paddy as well as the farmland he leases. He does most of the work such as weeding and putting out fertilizer alone and only hires others to help him with the planting and harvesting.
If someone praises him for his diligence, he always responds in a modest way that, as vice chairman of the Commune Farmers Association, he should set a good example to other farmers in the community.
He adds that doing the farm work himself is an effective way for him to find new and better varieties to introduce into the community.
Late last month he was asked to give a lesson on raising Asiatic knife fish and Mytusnemurus for six poor households in hamlets 3 and 4. Looking at him analyzing the alum and pH levels of the water with cadres in charge of agricultural expansion, he looked every bit the agricultural engineer.
After the lesson, he showed his students a successful model of breeding in the commune and introduced them to a place where they could purchase some good species on the nod thanks to his prestige.
Vo Van Hue has been a party member for two years now and is the undisputed leader of the 1,207 members of the Commune Farmers Association. Asked about his aspirations, Hue says his only dream is to help the community eradicate poverty and strive for a bright future.