So Thung, which was previously known as a hive of social problems, including robbery, drug addiction and prostitution in quarters 6 and 7, Ward 11, Binh Thanh District, has seen much development over recent years, with public safety much improved and many beautiful houses lining the streets.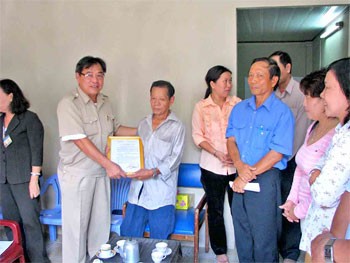 The local authorities hands over house and deposit book to Mr. Tran Van Lam's family (R), a poor household in So Thung area.
"So Thung was a slushy, fallow land of tens of hectares with a garbage dump and a cemetery before the war," said Nguyen Van Bay, an 80-old resident.
"The area, which neighbors the military zone, railway, Cay Thi market, a garbage dump and a graveyard, was home to many thieves and ruffians. However, the area, nowadays, has seen a remarkable decrease in social evils and the building of many houses and schools," he added.
In addition, So Thung residents have also strictly implemented the State's policies, such as supporting the clearance project of a corridor linking Tan Son Nhat in Tan Binh District to Binh Thanh District's Binh Loi.
They have also spent tens of billions of dong to buy dumpster trucks and garbage compression trucks, which have replaced handcarts.
Another resident, Nguyen Thi Ut, who came to Ho Chi Minh City after the country's unification in 1975 with her family, has achieved success in trading garbage and now lives a comfortable life.

She is just one of the numerous examples who have joined hands with local authorities to rebuild So Thung into an honest area with a bright future.