After the closure of Yahoo! 360 on September 19, the Vietnamese blogger community was in a rush to find a new home and scoured sites like Yahoo!Plus, Multiply, Facebook, ZingMe, Info, Blogger, and others.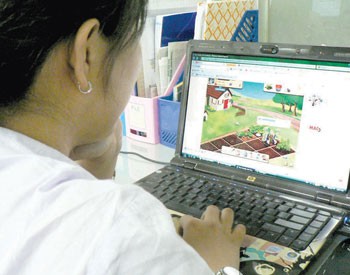 Facebook lures users with its plethora of games like Farm Ville, Farm Land and Bard Buddy,and funny quizzes.
They zeroed in on Facebook, which has now become one of the most popular blogging sites, attracting millions of users.
"I have used Facebook for more than two months. I am surprised to see many friends from primary school to university on it," a user said.
Facebook is a social utility that helps people communicate more efficiently with their friends, family and coworkers.
By searching email IDs, users can locate old friends and colleagues and easily make friends with many others.
In addition, it also lures users with its plethora of games like Farm Ville, Farm Land, and Barn Buddy and funny quizzes.
People have begun to spend a lot of time sitting in front of their computers, absorbed in tests to find out their aptitudes or taking care of their virtual farms and gardens, fertilizing, watering, preventing crops from being stolen, and harvesting.
The founder of Facebook, Mark Zuckerberg, announced September 16 that the website has more than 350 million active users worldwide.

More than 6 billion minutes are reportedly spent on Facebook each day and over 40 million statuses updated. A user spends 5 hours, 12 minutes on average daily.Around 70 percent of users are outside the US.

Facebook is also listed in the Top 20 Time Wasting Sites.