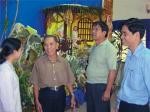 Local authorithies visit the Christians in Ward 7
 "Mr. Nguyen Van Trong, a 70-year-old Christian with 28 years working for the local authorities, is among whom I want to mention." said a local official in this ward.
From An Old Christian…

Trong has worked for the local authorities as a militiaman since Viet Nam declared independence in 1975. People still remember him as a savior in a fire from an oil-selling house in 1986. He was later voted head of quarter 4 in ward 7, Tan Binh District.

He is so interested in helping his neighbor, especially with their paperwork. Seeing his enthusiasm, some housing officials thought by mistake that he was probably a real-estate broker.  "I am not the broker, just a helper," he smiled.

…To a Young Christian…
 Local people in Tan Binh District always call Nguyen Van Thanh "a volunteer social worker". He, a Christian in Sao Mai Parish, has possessed that friendly name for over 20 years.

Inferiority complex was his feeling when he first came to HCMC in 1986. Fortunately, he met Sao Mai Parish Priest who encouraged him in social activities. Day by day, he feels much closer to his neighbors and the local authorities. "The youth, rather than the elders, should contribute to social activities. Especially, a young Christian must devote himself to both faith and life. " he said.

Currently, he is the leader of the local Red Cross Union and a Delegate of the Ward's People Council.

 …and even more.

"When I first came here, I was very anxious because the majority of habitants were religion believers. Fortunately, all social movements received a lot of supports and assistance from these Christians." Vice Chairman of Ward 7 People's Committee, Chairman of People's Council Pham Phu Phuoc contently said.

Besides Trong and Thanh, there are also other Christians who wholeheartedly support social activities. In the ward with 85% parishioners, blood donation activity is always advocated vigorously. Ms Kieu Thi Luong has given blood 5 times. Mr Ngo Van Thinh, Nguyen Thanh Si, Vuong Van Sang have donated blood even 10 times.
Walking in winding alleys in the ward, we can see newly-repaired churches, newly-paved roads amid warm Christmassy to welcome the coming Christmas Day.