As the capital city faces a new heat wave, Duong Ngoc My is seeing another flood of people order his creation - a miniature, ice-run air conditioner.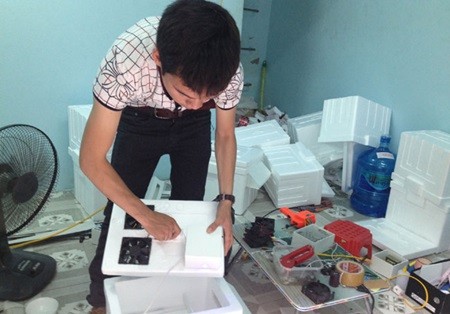 A senior at Ha Noi University of Industry, Duong Ngoc My, has made local media headlines with his handmade, cheap, mobile air conditioners for those on a tight budget. (Photo: VNS)
The handmade, small-scale cooling device has been sought after since its debut in June, especially during those days where the temperature in Ha Noi rose to 37 or 41 degrees celsius.
Though he has a roommate handle the customer service, My still has to handle non-stop phone calls from people asking to buy the product. At VND350,000 (US$16), an ice-run air conditioner offers a cool choice for those on a tight budget.
Since May, Ha Noi and some provinces in central and northern Viet Nam have suffered from numerous hot spells, with temperatures soaring above 40 degrees, according to the National Centre for Hydro-Meteorological Forecasting.
Settling in a 12sq.m rented room, My, a senior studying automobiles at the Ha Noi University of Industry, said he couldn't bear the broiling summer heat. He tried to manage the heat in all sorts of ways but he just couldn't do it.
"In early June when Ha Noi was hit with extreme heat, I couldn't even sleep. I tried to put a water basin in front of a fan or cool the floor with water. But it seemed these methods actually raised the temperature," My said.
"Then I thought of making a small device to help me cope with the weather. The idea came as I found our shared refrigerator abundant with ice. Based on my electrical knowledge and technical skills learnt in school and electronic forums on the internet, I finished one of my own in two days."
My, who is from Bac Ninh Province, posted some photos and text on Facebook describing his invention. Quickly enough, the post received hundreds of comments and thousands of likes. Some people even asked him to make them one.
The unexpected demand prompted My to go ahead and start making cooling systems for cash-trapped students and low-income earners such as workers.
"For these groups of people, like me, a normal air conditioner is too luxurious," My said.
"To ensure that the devices are priced reasonably, I reuse materials from other electronic products."
He goes to the market to buy rectangular, white styrofoam boxes that cost around VND15,000 (70 US cents) each. They are used to make the cooling device's body. He also uses materials such as condensers, fuses, conducting wires, CPU fans and heat sinks from Gioi Market near Hue and Tran Khat Chan streets. A whole range of new and used goods and spare parts are sold there.
"These materials, mainly from computers, laptops, projectors and printers, are still new and perfect for reuse, and pretty inexpensive," said My, holding a small, black plastic CPU fan. Around him all over his 10sq.m floor lay empty styrofoam boxes, propellers, electric wires, formex sheets and electric circuits.
Down by six degrees
From a rectangular box, sized 62sq.cm, My makes an air conditioner equivalent to 2000BTU. A normal air conditioner sold on the market ranges from between 9,000 and 12,000BTU.
"Two kilos of ice (VND6,000 or 27 cents) is enough to produce cool air for a 10sq.m room for four or five hours. In other words, it can reduce the room temperature by around six or seven degrees Celsius," he said, pointing to a finished product.
For a device of this size My installs two fans on the cover, which are connected to an electrical box made out of formex (a flame retardant material). Then he plugs in the fans, which blow out a flow of conditioned air through a vent which is also made of formex.
"Like a normal air conditioning system, the conditioned air is capable of freezing a person if he or she sits or lies within one metre," My said. "I separate the inside part into three sections: a condensing unit through which the fans blow cool air to the vent outside, an ice tray, and a lower container to hold the water from the melting ice.
"I hired some senior students at the Ha Noi University of Technology, but they didn't work out so I do the complicated parts on my own. The students study electricity, but they still failed to fix the electrical box – the most important part. I leave simple work like installing the fans, making partitions in the box, and marketing and shipping to people I hired to help."
On top of school work and working at a movie theatre in a shopping mall, My makes 15 boxes per night.
"Frankly speaking, the air conditioner doesn't look very fancy so many customers told me that they have to hide it under the bed or in a corner when it is not being used."
But it had an advantage - it didn't blow out hot air, and thus wouldn't dry out a room, My said. Despite the invention's popularity, My hasn't registered it.
"The 'air conditioner' runs quite well and takes just VND6,000 of ice for five hours of cooling. It works for me and my wife," said Bui Xuan Cong of Nam Tu Liem District in Ha Noi.
Sharing a rented room on the third floor of a four-storey house, Cong said the invention was lightweight – about half a kilo – making it easy to move around the room.
"The device really helps cool the air and is suitable for low-income earners and students like me," said Pham Van Trao, a fourth-year student at the University of Transport and Communications. "It is user-friendly. Whenever I need some pleasant air, I buy a bag of ice for VND6,000, put it in the styrofoam box and plug the electrical box in.
"The only thing I find out was that if someone didn't have a fridge or lived far from an ice shop, transporting ice in the summer heat isn't always convenient."
"I have a strong passion for creating things for practical purposes, not just for me but for society," My said. "I have also created sound amplifiers for computers, ornamental fish tanks and book cases. Now I plan to do something really cool for the coming winter."