It began in a trickle, out of one teacher's desire to do something to help needy students with desired to go to university, but could only dream of it, given their poverty.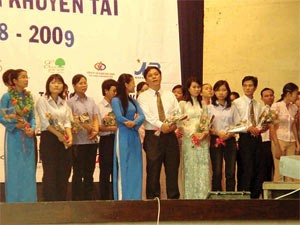 Students receive scholarships in the ceremony party at Tran Dai Nghia High School (Photo: SGGP)
Le Minh Ngoc asked people close to her, including a younger brother, a brother-in-law and a foster brother, to help at least one student financially, and they did. 
"One for One" thus began with five people sponsoring five needy students in 1999-2000. 
The trickle became a strong river soon, and for this academic year, 196 individuals and 30 firms have backed 720 students. 
Le Minh Ngoc is the Standing Vice President of the Vietnam Association for Promoting and Supporting Education Development (APSED) and Director of the Fund for Promoting and Supporting Education Development. 
When the fund was announced to the public, Ngoc received a lot of reports from the provincial agents of HCMC APSED, listing names and details of needy students. She quickly visited the students, not only to meet them in person, but also to hear their dreams and keep them alive.  
The idea of helping a poor student study well captured the imagination of many sponsors, and quickly, "One for One" in reality became one for many. 
Nguyen Van Binh, Director of Bach Dang Ltd. Co that makes ice cream, joined the program by sponsoring two students, but a year later, he decided to support five. Now he is the proud sponsor of 10 students. 
Nguyen Van Chau, Director of Thien An Ltd. Co., began by sponsoring 20 students, but has since increased it to forty.  
The support has not only come from the well-off, but also from people who have suffered hardships while they were students.  
The product manager of Abbott Laboratories Inc.'s office in Vietnam, Hoang Thi Kieu Tram, had to overcome many difficulties when she was a student, and she understood what poor students needed – not just money, but also a heart to share happiness and sorrows.  
Besides providing financial support, Tram and her husband regularly meet their wards to listen to their difficulties, share experiences, and guide them on overcoming obstacles to study well. For those who are going to graduate, Tram has also shared with them some tips to their applications for employment sharper and more impressive.  
At a recent ceremony organized at the Tran Dai Nghia High School in HCMC, it was highlighted that the care shown to many needy students was their main motivation to keep studying hard despite all the pressures they have to face.  
Phan Thanh Hang, one of the students who were sponsored for four years in the university, said: "During four years of sponsorship from the program, we have recognized that what we have received is much more than money. The sponsors are my relatives, giving us the warmth of a real family and also standing beside us whenever we needed a helping hand. We want to say many thanks to all of them."