Since 2002, farmers of Tuy Duc District in the Central Highlands province of Dac Nong have grown sweet potatoes instead of coffee when this fast growing crop turned out to be quite profitable. At present, they are making plans to build up an international brand for their sweet potatoes.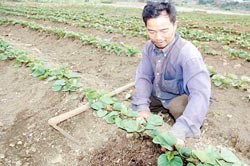 Mr. Le Van Binh on his potato farm
The price of sweet potatoes is VND4,500/kg when the crop is in season and climbs to VND7,000/kg when it is out of season. Local farmers, however, said that the demand for this product always exceeds supply. Traders even come to farmers' fields to buy sweet potatoes at competitive prices. Thanks to the sweet potato, many farmers here can earn a yearly net profit of over VND100 million (US$6,200) and thus escape poverty.

The story began in 2002 when May 19, an agricultural cooperative in Dac Bup So Commune, grew two hectares of Japanese sweet potatoes as an experiment. After three months, the co-op harvested over 15 tonnes of sweet potatoes, earning nearly VND40 million (US$2,500). Inspired by this success, the co-op expanded the growing area to 50 hectares for a second crop and earned hundreds of millions dong after the harvest.

Soon afterwards, farmers in the neighboring communes began to plant Japanese sweet potatoes as well. At first, local farmers faced difficulties in selling their produce due to the policies of traders, who offered fair prices only to farmers who were members of co-ops with which they already had a relationship. Other farmers had to sell their produce for much lower prices.

Refusing to sit with folded arms and accept the situation, Mr. Le Van Binh, a farmer in Dac Bup So, went to Dac R' Lap District and negotiated a contact with a Japanese purchaser. The man not only bought all of Binh's produce, but also appointed an agent at the commune to buy sweet potatoes from all the farmers in the region at competitive prices.

According to Mr. Tran Dinh Manh, chairman of the Tuy Duc District People's Committee, farmers in Tuy Duc District are now growing Japanese sweet potatoes on 600 hectares of land with a yield of 10 to 12 tonnes per hectare.

Although no longer facing a price squeeze, local farmers can still only get VND4,000/kg for the sweet potatoes they sell to agents who represent foreign food processing companies, Manh said.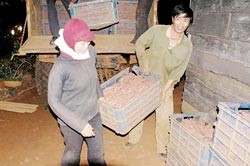 Farmers in Dac Bup So Commune harvest sweet potatoes
Mr. Manh pointed out that after processing fresh sweet potatoes into dried products, foreign companies will export them to Japan, Singapore and Malaysia where they are sold for over VND120,000 (US$7) a kilo.

Understanding the huge loss incurred by the farmers' in selling their produce in the form of materials, leaders of the district are working on an VND14 billion (US$870,000) project to build a sweet-potato processing plant in Dac Bup So. Farmers here are trying to expand their growing area to 1,000 hectares by the end of this year. These efforts are aimed at exporting processed products to China, a market with great potential.

Mr. Manh added that farmers in Tuy Duc District are now aware of the importance of brands and try their best to ensure the quality of their produce. Sweet potatoes in the district have obtained a certificate of quality and origin issued by the state.

At present, local farmers are coordinating with the Dac Nong Province Department of Science and Technology to establish a Web site to introduce their brand of sweet potatoes to other countries.

Some other provinces in the Central Highlands, including Gia Lai and Kon Tum, are learning how to grow Japanese sweet potatoes from the farmers in Tuy Duc District so that they can grow this fast growing and highly productive crop for export in the not-too-distant future.