Seven technically savvy people with a bent for social activism are spending their weekends collecting old computer parts, assembling them into working computers, and taking the machines to remote parts of Vietnam to give away.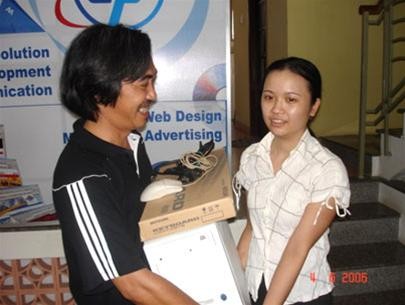 Mr. Dac Ly, the oldest member of the group, gives a computer to a young girl in Phu Nhuan District, Ho Chi Minh City
Calling themselves "Tin Hoc Xanh", which literally translates as "green IT" (waste not want not), the computer professionals who make up the group have done well in the twelve months since they started taking information technology to the countryside.
To date they have delivered 25 computers to schools and parishes in Kien Giang, Dak Lak and Phu Yen provinces, given one to a poor student in Ho Chi Minh City, and one to a school kid in Binh Duong.
All of them hold senior positions in IT firms, and four have young families to provide for, so they are busy beavers indeed.
The old computers they strip down are collected through the website www.ddth.com. After assembling the parts into working computers, the members of "Tin Hoc Xanh" spend hours checking and testing them.
"We make sure every one of our computers is operating well. With the software, we consider the user's needs before deciding what to install," said one of the team members.
"Seeing the surprise and keen looks on the ethnic children's faces is a real buzz for us. It's always the first time they have seen a computer," another member said.
"These children are so eager to learn. What we do really gives us a warm feeling inside."