Among 14 people who have been selected for the final round of the Ton Duc Thang awards on August 17, Nguyen Minh Tam, chef of Cung Dinh (Royal Place) Restaurant has been recognized for her contribution in popularizing Vietnamese culinary art to foreign countries.

Friends and former colleagues of Tam at the HCMC University of Pedagogy were very surprised when they saw her on the Discovery Channel as a successful chef.

After graduating from the university in Hanoi, Tam settled down in Ho Chi Minh City and taught literature at the city's University of Pedagogy for 12 years. Tam's friends and relatives thought that she would pursue a teaching career for the rest of her life.

Tam said, "I came from a poor family. We didn't have meat and fish, but only fresh vegetables and pickled vegetables for daily meals. My mother, however, was a very good cook. She could prepare good meals from very common ingredients. I've learnt a lot from my mother's cooking talent."

Tam loves cooking and always cooked for the family when she was at home after teaching.

Fifteen years ago, one of the regular guests at the family meals was Tran Van Nghia, chef of Ben Thanh Restaurant of Ben Thanh Hotel.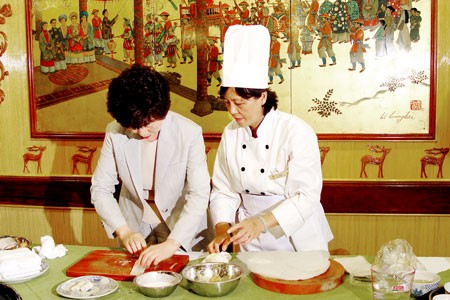 Tam teaches a foreign diner how to make spring rolls (Photo: SGGP)
One day, when enjoying delicious meals prepared by Tam, Nghia knew that Tam was the right person he was looking for to help him run a new restaurant serving specific dishes of three different regions in the country to international and local customers.
Nghia asked Tam to cooperate with him and she decided quit her teaching career to embark on the venture.
To help the Cung Dinh restaurant get a foothold in the culinary market, Tam and her fellow-workers traveled to different regions nationwide to learn how to make special dishes passed on through generations from local people. She also recruited local people to work in the restaurant's kitchens.
Tam said, "In my restaurant, each group of cooks are responsible for preparing traditional dishes of their own region to ensure the culinary heritage of the dishes."
Cung Dinh Restaurant has been famous for its many traditional Vietnamese foods, from dishes originating from ancient royal kitchens to those found in the daily meals of common people.
Tam is a true artist, as foods prepared by herself and her fellow-workers not only please the eyes but also beautify the plates.
It is hard for gourmets to forget Cung Dinh's dishes used to made for royal families, including Phoenix appetizer, fried rolled fish, Hanoi grilled fish, rice wrapped in lotus leaves, grapefruit salad and mackerel simmered in tea.
Even standing dishes, such as sour soup, spring rolls and pho (Vietnamese noodle soup) are also made in a way that they become delightful specialties to serve diners' eating pleasure.
One of Tam's initiatives that has been highly appreciated by the restaurant's management is to teach Vietnamese cooking to foreign customers through "Cooking shows".
Tam explained, "Once a foreign customer has ordered the foods, I'll pick out one dish among them and teach the customer how to cook it. The principles are the chosen dish will not be too difficult to make and the ingredients for the foods are easy to find and buy because they are available on any market."
She added, "I myself or one of the cooks will perform the cooking right on the table. Foreign customers enjoy this way of learning as they can see how the food is prepared and cooked with their own eyes and thus can keep it well in their minds. This is a really good way to popularize Vietnamese culinary art to foreign tourists."

The show has been welcomed by foreign tourists. A number of foreign TV stations, such as NHK (Japan), Rai (Italy) and TV3 (Malaysia), have come to the restaurant and made films about the show.

It was also chosen to serve the spouses of Ministers who took part in the 14th APEC Economic Leaders' Meeting 2006 in Vietnam.


Ton Duc Thang awards are joint granted by Sai Gon Giai Phong and the HCMC Trade Union on a yearly basis to the city's best workers.

They are held to commemorate Ton Duc Thang (August 20, 1888), a leader who succeeded Ho Chi Minh as President of the Democratic Republic of Vietnam in 1969 and in 1975 as President of the reunited Socialist Republic of Vietnam.
Related article: