As years pass, my childhood memories of Tet Lunar New Year remain fresh with me, of hectic activities in my small village at the edge of a deep blue sea with a swarming and bustling market nearby.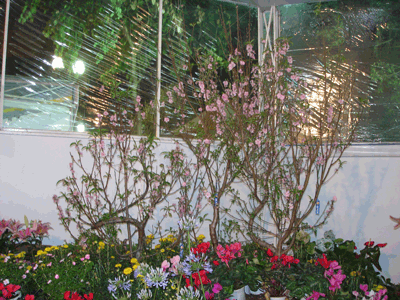 Flowers and blossoms welcome the coming spring during each Tet Lunar New Year ( Photo: Ngoc Anh)
The cool breeze from the sea brings in the smell of fresh fish into my village.
My childhood best friends loitering around the beach the whole day, heedless of their sun burnt skin and dry damaged hair, but more engrossed in picking shrimps and crabs to later barter for an ice stick or a glass of sweet gruel.
Despite my mother's warning not to play with dirty and poor uneducated urchins, I still considered them my friends and went out with them to the beach.
When my elder brothers and sisters dragged me back home on several occasions, my hair, clothes and body was covered with sand. My mom would get so angry, but as it was Tet time, she had no heart to punish me.
Many Tet Lunar New Years have passed since and I have grown up. I have tasted the ups and downs of life but I still believe I am lucky as I have a grand mom, a mom and a home where I can go when I feel low. Besides, I can also find joy in the warm nostalgia of my childhood Tet days.
My parents follow the customs and traditions of Northern Vietnam during Tet Lunar New Year, even though they have lived in the South for many years.
Tradition requires that during the first three days of New Year, members of my family all eat meals together, along with some guests and villagers.
My brother's friends and some relatives drop by to greet my parents. They are also invited to join in the meal with my family. It is more than a simple meal. It is a feast, as it is cooked with much love by my grandmother and mom for all family members.
The feast includes special dishes including a special soup of North Vietnam, a pig head paste and stuffed sticky rice cake- the most traditional of all dishes during Vietnamese Tet Lunar New Year.
The cake is a must in every Vietnamese home and marks the importance of rice in Vietnamese culture as well as being of historical significance. During Vietnamese Tet, family members gather together and enjoy a feast of stuffed sticky rice cake.
The atmosphere at the feast is very joyous as everyone chews food and laughs and greets each other.
Years have gone by and now I am married, with my husband's family coming from central Vietnam. During my first year in my marital home I was very clumsy when preparing feasts for Tet Lunar New Year or for solemn occasions like death anniversaries, but soon I learnt the ropes and perfected the art of preparing nice tasty dishes.
On December 30 of every Lunar New Year, I am busy preparing Tet dishes. My husband and I drive hundreds of kilometres in the cold weather to return to my hometown so that we can worship my husband's ancestors by making our offerings and lighting incense on their tombs.
My table is laden with dishes of two provinces, of the North and the Central regions, and I laugh at the way my mother-in-law waits for Tet as like a little child she too waits eagerly for lucky money!
Now one year has passed since I lost my mother. With Tet   approaching in a few days, I will worship the most loved person in my life and make my offerings of love and honor to her.