With two weeks remaining until the Lunar New Year Festival, Nhat Tan Village on the edge of Ha Noi's West Lake is blooming with a variety of flora, especially peach flowers.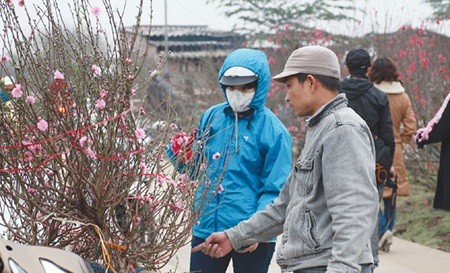 Just peachy: During the lead-up to Tet, many visitors from the capital and surrounding provinces flock to Nhat Tan to purchase beautiful peach trees despite the cold weather. — VNS Photo Truong Vi
Displaying peach trees and flower branches in the home during the New Year celebration has become a cultural tradition among Vietnamese northerners, especially Hanoians.
On the days leading up to Tet, many visitors from the capital and surrounding provinces flock to Nhat Tan to purchase beautiful peach trees.
The peach branches in Nhat Tan come in many shapes and colours. Villagers have planted peach flowers for generations, and their growing techniques have reached a level of virtuosity.
"We have spent the whole year taking care of the peach trees," said Nguyen Thi Tam, 62. "Despite the difficulties with the abnormal weather this year, the flowers will be in full blossom in time for the Lunar New Year."
Nguyen Xuan Hoa, 34, from Thanh Xuan District, said he doesn't have lots of experiences in choosing peach trees. In recent years, however, he has gone to buy flowers with his father and has learned what to look for. He mostly selects trees with a good structure instead of those that have a large number of flowers.
"Peach trees should be selected carefully and gracefully because the buyers want to wish for a new year of good health and prosperity through them," said Hoa.
More than just a place to trade flowers, Nhat Tan Village is also an ideal area for young people to experience the memorable moments and colourful atmosphere of Tet, which falls on February 8 this year.
"My class decided to visit the peach garden as a place to welcome the New Year and create new memories," said Nguyen Thanh Phuong, 21, a final year student at the Water Resource University.
"Peach flowers are bloom very beautifully this year, so we can take photos of the flowers after receiving the consent of garden owners and paying a small fee."
In addition to peach trees, the kumquat is also a popular plant among Hanoians during the New Year.
At the kumquat village of Quang Ba not far from Nhat Tan, most of the kumquat trees here have been preordered. Garden owners deliver them to the buyers' homes several days before Tet.
"Customers come here to buy kumquats for the western New Year Holiday. Even foreigners living around here also buy them to put in their houses for Christmas," said Dinh Thi Thu Hien, an owner of 500-tree garden.
"Although the kumquat price this year is a little bit higher than last year, half of our trees have been sold so far. I hope they will sell out before Tet like last year."
Peach and kumquat trees are often placed in pots in front of or inside the home.
"They are a spiritual gift that is indispensable to the nation's traditional holiday," said Hoa. "I find that without them, the atmosphere of Lunar New Year will not be complete for us."