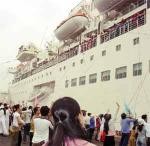 The Ship is leaving Viet Nam
(Photo: Van Hanh)
The "Ship for Southeast Asian Youth Program" (SSEAYP) is an annual program sponsored by the Japanese Government and supported by the member-countries of ASEAN.

The program brings together about 300 youth from ASEAN countries and Japan, providing them with the unique opportunity to interact on board the ship Nippon Maru for 50 days.

The Ship for Southeast Asian Youth Program is based on the respective Joint Statements issued in January 1974 between Japan and the Republic of Indonesia, Malaysia, the Republic of Philippines  the Republic of Singapore and the Kingdom of Thailand.

Negara Brunei Darussalam, following full independence and its admission to the ASEAN in January 1984, joined the program in 1985. The Socialist Republic of Viet Nam joined in 1996, following its admission to the ASEAN in July 1995, and the Lao People's Democratic Republic and the Union of Myanmar joined in 1998 after having been admitted to the ASEAN in July 1997.

Furthermore, in 2000, the Kingdom of Cambodia also joined this program following its admission to the ASEAN in April 1999. This program is carried out by the Government of Japan with the active participation and cooperation of these ten Southeast Asian countries.

The purpose of this program is to promote friendship and mutual understanding among the youth of Japan and Southeast Asian countries; to broaden their perspective on the world, as well as to strengthen their motivation and ability in international cooperation by participating in discussions, and in various exchange activities both on-board and in the countries visited. In addition, the participating youths are expected to progress to leadership positions in their own country.

A series of activities is lined up for the selected group of participants.  The program during voyages includes discussions on social and youth matters, cultural introductions, sports, recreation and club activities. 

Activities at each port-of-call include interaction with the local youths, courtesy calls on dignitaries and institutional visits, as well as community service and homestay experience.

SSEAYP 2005 is scheduled to be held from 8 November to 20 December 2005.  During this period, the ship Nippon Maru will visit six of the ten ASEAN countries namely Brunei, Japan, Malaysia, Philippines, Thailand and Viet Nam.