If one first comes to Vietnam, he or she will be very surprised at quite a number of coffee shops along the streets. It is not unusual to Vietnamese because coffee shops are part of the Vietnamese culture.
In recent years, coffee shops with unique design and style have mushroomed in Ho Chi Minh city, drawing lots of visistors in all walks of life. " Quan Lang" is among them.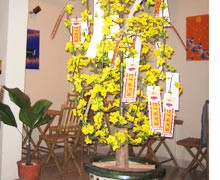 Inside "Quan Lang" (photo - thaivy)
"
Quan Lang" is a small shop on 197 Tran Huy Lieu street in Phu Nhuan district. There is no second café like this anywhere else in Ho Chi Minh city.

"Special" café
The guests coming to "Quan Lang" will not be surprised at the beverage menu but at its service. What makes the difference there? Unlike in other coffee shops, customers have to use pen and paper to make orders because most of its service personnel, except the 33-year-old male owner and the security guard, cannot talk. They are young girls and boys born deaf. They spent their early years in special schools where they were trained to use sign-language in their basic education and during their vocational education to enter the modern life.
On entering, customers are greeted with friendly smiling faces and served in a polite and professional manner. The service people offer a warm atmosphere in a small room decorated in a simple but unique style.
The shop owner, who required anonymity, said: " We had only chairs and tables in the beginning. Now you can see some decorative items around." Seeing the reporter's astonishment, the owner smiled and explained:" They are all from our customers".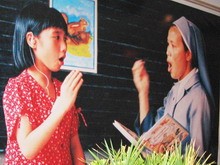 A gift from a guest , the picture of a nurse teaching a young girl how to use hand sign language (photo -thaivy)
Then he pointed to one wall-size picture and continued his story, " The artist whose picture had won a special prize at an international art contest has brought this panting there when he heard of the shop". It is really a beautiful picture giving a profound impression to whoever comes to "Quan Lang". The picture shows a middle aged nurse teaching a girl how to communicate using hand gestures.
There are other gift given by visitors to the "Quan Lang". That is a shelf in one corner where visitors donate their old books to poor people and children. The owner said that a group of young visitors suggested placing the book case there until it is full. They would come back to take those books to poor children and old people at charity centers.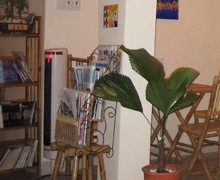 The shelf to collect books from other guests to give to poor peple and students(photo -thaivy)
With its unique atmosphere, the "Quan Lang" is, in fact, extremely special in its name, which means " the Silent Coffee". When asked about the concept of "Quan Lang", the owner once again smiled and answered, "For disabled people, especially the dumb and deaf who have not had their own official social organization, it is very important to show the others that their audio and visual disability do not exclude them from daily life."
Let's go to "Quan Lang" – the silent coffee to enjoy the precious but rare peaceful moments. The owner said, "We need a heart, a favor and a sympathy from the society towards disabled people in general and to the deaf and dumb in particular."