The small mountain village is so poor that people there do not even have enough vegetables to eat. Despite that, it is the remote Puoi village in the North West mountains that is the craddle of many professors, doctors, masters and bachelors for highland ethnic minorities…

Poor village breeding intellects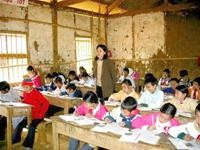 A classroom in Puoi Village (Photo: Tuoi Tre)

"There is a legend that it is not easy to make one's fortune in Puoi village, for there are two brooks at both ends of the village which, in folklore belief, sweep away all people's havings. Villagers must overcome that harsh fate in order to attain a position in life," said Hoang Quy Cau.
According to him, the two gentle brooks, just after one downpour from the source, can become ferocious all of a sudden. They violently sweep away corn and manioc crops ready for harvest after long days of men's hard labor.Under that circumstance, Puoi people have learnt that education is the only way for them to have a better life.

Hoang Qui Cau's generation studied amidst acute hunger and great danger of wartime. "We had to do all adults' hard manual work at the age of 13 or 14. We started ploughing since 3 a.m., then walked along Tat brook to school at around 5 a.m.," he recollected.
After school, Hoang Quy Cau, like many other kids, went to small camourflaged huts in the field, which served as shelters in case of bombardment, to tend buffaloes and learn their lessons. At the same time, they had to watch for the U.S. air attacks which targeted at Phu Yen Hollow every day. Amist the deafening sounds of bommbardment were the murmurous sounds of pupils learning.

Hoang Quy Cau's class finished grade 10, the highest in the former educational system in 1969. Then he worked as a journalist in Northwest Soldiers Newspaper. After the liberation, he was transferred to Son La Newspaper and in 1998, he was appointed Director of the Northwest branch of The Voice of Viet Nam.
His former classmates include Nguyen Xuan Phan, Deputy Head of Propaganda and Instruction Board of Phu Yen People's Committee; Hoang Viet Long, a well-known journalist in the Northwest. ..Hoang Quy Cau's four children started learning in poor thatched classrooms but later all became bachelors of journalism.

Hoang Luong was formerly a pupil in Puoi village. He joined the army, fighting in Luang Prabang (Laos) after finishing grade 9. He was wounded in one battle, his left wrist broken and one eye lost. Upon recovery, he was sent to the Culture Service of Nghia Lo Province and studied in the History Department of Hanoi University.
Thanks to his excellent academic results, he was assigned research and teaching tasks at the university. In 1987, successfully defending his Ph.D. dissertation, he became the citizen of the highest academic distinction in Son La. He has been presented with academic title of Professor by the State recently and is currently teaching Ethnology in Ha Noi.

Intellects are fed on forestbugs?

There are no more wartime shells in Puoi village nowadays. On Tat brook is Na Tong, a filed, or rather uneven, patchy pieces of field. "As much as 50% of the households are poor, so poor that their children have only rice or sweet potatoes to eat before going to work on the field or going to class,", said Secrectary of the local Communist Committee Dinh Manh Phong with a sigh.
I would never forget a special dish in a reception at Mr Sam Chanh's house: roasted forestbugs! He half-jokingly told us," You plainsmen can by no means know this speciality of our village". Then he went on, " Many generations in Puoi village have tried to get used to eating forestbugs, otherwise they would be unable to study because of hunger.
There are plenty of forestbugs in the field as few animals eat those bugs with such nasty a smell. It is only with strong fortitude and faith in the future that Puoi people manage to put up with that smell. Whether being a Professor or Doctor, growing up in this village, a person can eat forestbugs," said Mr Sam Chanh proudly.
Sitting next to me at the meal was a man from Thai ethnic minority who has two bachelor degrees-Nguyen Huy Hoang, Deputy Head of Phu Yen People's Committee Office. He helped himself with the roasted forestbugs now and again during the meal, and seemed to be at total delight.

Mr Le An, an old teacher from Ha Noi who has taught many generations of Thai people in Puoi village, slowly and firmly said: "I have never seen any other village whose people are more earger to study than Puoi village over the Northwest mountains". Perhaps it is what makes him spend almost all of his lifetime teaching in the village since 1962.

The certificate of 'Family of Love for Learning' issued by the Province's Authority was displayed solemnly in Mr Sam Chanh's house, among many certificates of merit of the children. Much as he is so proud of that, he claimed that his family's tradition of love for learning is nothing special, as there are many families like that in the village.
Though it is only a small remote village far up in the Northwest mountains, Puoi village has a large number of intellects and students. Out of only 216 households in the village, there are as many as 335 students, 40 teachers, and Ph.D.s of Mathematics, Computing and Medicine. Engineers and teachers in the village can even supplement the human resources in any district, province in the nation.