Nguyen Van Chuc is not a man to stand idly by and observe tragedy from a distance.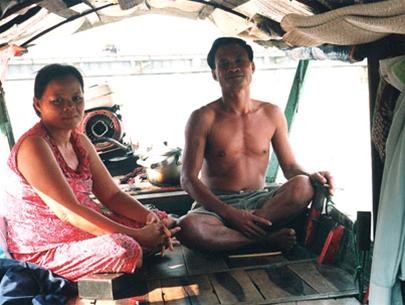 In spite of the poverty, "rescue man" has a happy family life
When a maintenance worker or a child falls from Binh Loi Bridge into the Saigon River, or when a distraught girl takes what she thinks will be her final plunge, Mr. Chuc is there to pull them out and help them on their way.
Chuc has been living on a boat near the bridge ever since his family moved from Vinh Phuc Province thirty years ago. They spend their days fishing to earn their keep.
 
In his early days on the water it was not that rare to see someone fall from the bridge, and as soon as he was big enough Chuc decided it was up to him to come to the rescue.
Since then he has saved scores of people in all types of weather to earn the nickname "Rescue Man" and the respect of everyone around.
Once in the darkness of midnight, through the heavy rain he saw a girl jumping from Binh Loi Bridge into the swift-flowing river. Without a second's hesitation, he raced his boat to the scene and pulled her out of the water.   
After she came round, the girl told him she'd wanted to kill herself because of her failure at school and in love. Chuc knew where she was coming from but told her to think of her parents and the distress she would cause them, then took her home.
"Most of the people who seek death don't really think about the consequences of their actions. They're quite selfish really. The interesting thing is that, after being plucked from the water, every one of them regrets having tried to end it all," says Chuc.
The people he has saved include children and workers who fell into the river. Like the would-be suicides, their names go into a notebook Chuc maintains as a personal diary of life on the river.
Amazingly, he and his wife even spend some of their time and energy diving into the water to look for dead bodies drifting in the current. When this gruesome mission is successful, they inform the local authorities and the victim's relatives if possible.
"Mr. Chuc has spent more time on rescuing than catching fish so he is always poor," joke some of his friends.
Responding with a broad grin, Chuc says he is happy with his life in spite of the poverty and believes his children have a good life.
He's even been given a paid job under the bridge in recognition of his unselfishness and dedication to others: minding the marker buoys. It puts him right on the scene for when the next person plunges from on high.