Buddhist nun Thich Dam Anh is considered a "first-rate vegetarian cook in Ha Noi". She has been cooking vegetarian food for 70 years and once had the honor of cooking for the late Indian Prime Minister Gandhi.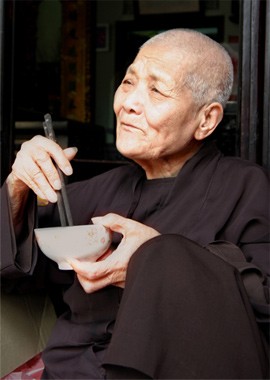 Thich Dam Anh having a quiet vegan meal
Mention meatless food and most Vietnamese Buddhists will likely associate it with the small Phung Thanh Pagoda lying in a small alley off Kham Thien Street in the capital. The pagoda head is also its main chef, the 85-year-old Thich Dam Anh who, on every Ram Thang Gieng Festival (the 15th day of the first lunar month), displays her cooking skills and more often than not creates an entirely new recipe.
"Our vegetarian meals are not intended for publicity… every year, we offer several hundred plates to wish for prosperity and peace," Thich Dam Anh says.
Her typical vegetarian food includes many courses fit for a Tet festival (Lunar New Year) -- grilled 'eel', 'eel' cooked with soy sauce, simmered 'chicken', 'fish' soup, 'fish' soaked in brine, 'meat' pie, steamed 'beef', simmered 'pig's trotter', and others that will make anybody's mouth water.
Only, all the 'animals' are cleverly made and shaped from tofu, bean sprout, green bean, mushroom, wet taro, and even grapefruit peel.
"Cooking for pagodas for over 70 years, I have made almost every vegan dish there is," Thich Dam Anh says with a gentle smile.
Serving Gandhi
When an Indian delegation led by Indira Gandhi paid a visit to Viet Nam and asked for Vietnamese vegetarian food, the hosts immediately sent for Thich Dam Anh.
"It is the most memorable moment of my life", Thich Dam Anh says.
A meal typical of Vietnamese food greatly delighted the Indian Prime Minister who particularly praised the chicken made from bamboo shoot and fish from banana flower fried with sweet and sour sauce.
Besides cooking, Thich Dam Anh is also heavily involved in charity, shuttling from province to province to donate gifts and money to victims of disasters and the disadvantaged. She also works with the Viet Nam Red Cross to help Agent Orange victims.
"A tree of goodwill bears a thousand fruits of good. Bringing a little salt, a little rice to unlucky souls will mean more to me than a life of vegetarianism and Buddhism," she once said.
Her life has not been an easy one. She became a monk at the Am Hon Pagoda in the northern Bac Giang Province when she was just 10, and when she turned 15, began to collect old clothes and blankets to give poor patients and lepers. She has been involved in charity since then.
In 2006, the government bestowed on her the Order of Labor, Third Class, for her contribution to humanity.