The three are all elderly men. Two are French and the other Vietnamese. Each one has his own life, but they all have the common objective that they should do something to relieve the spiritual and physical pains of Agent Orange (A/O) victims in Vietnam.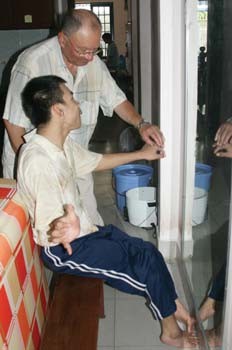 Dr Lier Francis gives occupational therapy to an A/O victim
It was 11 am at the Treatment Center for A/O Victims on Quang Trung Street, Da Nang City. Seventy year old Lier Francis, a volunteer doctor from Da Nang Center Orthopedic and Rehabilitation, was leading Le Anh Xuan, 15, by his hand to teach him to walk.

After taking a few awkward steps on his stilt-like legs, Xuan, a dioxin-affected child, collapsed and Francis helped him to stand up. This happened over and over again until Francis's shirt was damp with sweet. Although exhausted, a happy smile lit up the face of the kindhearted doctor.

During a six week trans-Vietnam journey in 2007, Lier Francis, a resident of Alsace, France, paid visits to a number of centers for A/O victims throughout the country. He was moved by their problems and told himself that he would return to Vietnam someday to help them.

He said, "I decided to choose the central region as A/O victims here are not taken care of as well as those in Northern and Southern parts of the country."

He added, "I have seen many human malformations, but those affected by dioxin are the most severe, I can say. Many children here have only one eye, others have to walk by their thighs because their legs are curled up."

Lier said that he was racing against time because his health is declining with age but he would spend the remainder of his life to help ease the A/O kids' pain and misery.

Le Thi Hoa, an employee of the Da Nang A/O Victim Association, said, "Lier is now giving occupational therapy for ten disabled kids at the center. He also gives lectures on occupational therapy to pass on professional knowledge to staff that directly care for the handicapped."

Since 2005, Jean Cabane, 60, has become a benefactor to many poor families of A/O victims in Da Nang.

Working at the Vietnamese – French Friendship Association, Cabane always tries to help poor families of A/O victims strive for a better life by giving them a cow or pig as a small starting fund for their breeding business.

Cabane said, "I began to join demonstrations in France against the US war in Vietnam when I was 20. I always thought about Vietnam as a small country with unyielding people.

"But when I came here four years ago and paid a visit to a family with four A/O kids, I understood that behind the glorious victory of the war for the independence and freedom, the lives and well-being of thousands of Vietnamese people are being threatened by the harmful affect of dioxins and other chemical substances, and I decided to do something to help them," Cabane added.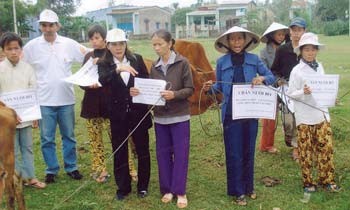 Jean Cabane gives a cow to the family of an A/O victim in the rural area of Da Nang City
Cabane traveled to the countryside of Da Nang and witnessed A/O victims and their families living a miserable life. Many of them are farmers but they do not have any land for cultivation nor cattle for breeding.

Cabane decided to invite donations from his friends in France, who work for such organizations as the French –Vietnamese Friendship Association in Gard – Cévennes and the Drop of Water Humanitarian Association.

According to Nguyen Thi Hien, chairman of the Da Nang A/O Victim Association, since 2007, Cabane, on behalf of such organizations, has donated 92 cows and 147 pigs to families of A/O victims in the city.

Cabane himself and his Vietnamese wife have also used their own money to buy rice, fish sauce, sugar and monosodium glutamate to give to families of A/O victims as gifts.

Cabane and Lier are now two members of Da Nang A/O Victim Association, an organization with24 volunteers from all over the world.

For more than 20 years now, Tang Bon, 79, resident of Dai Hong Commune, Dai Loc District, Quang Nam Province, has traveled from North to South to collect money and food for A/O victims of Dai Hung Commune.
Tang Bon visits the family of Truong Thi Thanh Tam, an A/O child
As chairman of the commune's Red Cross, every day, Bon rides his old bike to families of A/O victims in the commune to see what he can do to help them. He also visits organizations, agencies, companies and temples to raise money for the charity cause.

Huynh Tan Tam, father of a 13 year old A/O child, said, "Our dioxin-affected child is mentally unstable. We have to put him into a cage and tie his right hand to one of the bars; otherwise he will bite it to a pulp."

Tam added, "As farmers without land, we are living in straitened circumstances. Bon from time to time comes and give us food to help us live from hand to mouth. We don't know how to manage without him."

In the beginning of the year, Bon went to his hometown in Duy Xuyen District and met an overseas Vietnamese and asked him to make a donation to the A/O victims.

Bon said, "I just tried my luck, but in April, the benefactor donated 700 gifts worth VND7 million to the kids."

Commenting about his noble deed, Bon said, "I'm a beggar, but a happy one as I give out all what I have begged for, but receive hundreds of smiles from unfortunate kids and their parents in return."