May 19, 2005, in the evening, Viet Nam Foyer restaurant, located in 80 Monge Street, Paris was very crowded. People came here to celebrate birthday of the Great President Ho Chi Minh or Uncle Ho, the first president of Democratic Republic of Vietnam. There was a large portrait of Uncle Ho hanging on the wall of restaurant with a beautiful boutique.

And that night, a lot of Vietnamese people came to Vietnamese club-house to celebrate Uncle Ho's birthday. Alain Bosquet, a French Congressman sincerely complimented that Ho Chi Minh were a symbol of mildness and equality. He also stressed that Uncle Ho were not only a hero of Vietnamese people but of mankind also and cannot fade away in the mind of people today.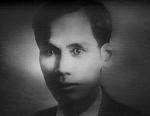 Nguyen Ai Quoc, 1917 in Paris
In the party, everybody enjoyed two documentary films about Vietnam and President Ho Chi Minh's life. These documentations were about the time when Uncle Ho worked as a kitchen hand with the name Van Ba on a steamer on June 05, 1911. And they also mentioned activities in Moscow, Hong Kong, Thailand, Guang Zhou, even his important contribution in Dien Bien Phu legendary victory. French really made Vietnamese admire their equity fairness by making films about their own bitter defeat.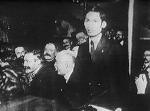 Nguyen Ai Quoc was addressing in the French Communist Party

The films really had a tremendous impact on the young people. I could see tears on their faces when the show finished.
Most of them were Vietnamese living in France and couldn't speak Vietnamese. Loi Vinh Thai, one of young audience, talked to me in English: "I cannot imagine what Vietnam is like, but my heart always reminds me that I am Vietnamese" and wrote a sentence in French: "Toutes les feuilles tombent vers la racine. Aucun arbre ne peut vivre sans racine" (Leaf always falls down to root. There are no tree could live without root)

When visiting History Museum (Le Musée de l Histoire vivante) in Montreuil, Paris, my colleagues and I saw Uncle Ho statue standing solemnly between two clumps of bamboos.  And there was a room imitating President Ho's apartment when he lived at No.9 Compoint Street in France.  Especially, the door was brought from that apartment.
Inside that humble room, there was a basin, a name card hanging on the wall and an illustration of Uncle Ho's bed. With the guild of Director of Museum, Mr. Gérard Lefèvre, we could imagine Uncle Ho's life when he lived here.

We were really touched by the hospitality of Montreuil people. Even though it was not opening – time when we visited the museum, we were welcomed and guided devotedly by the Museum Director.