Volunteers helping candidates during the university entrance examination in the central province of Thua Thien-Hue were in for a very pleasant surprise when two French students joined hands with monks to prepare meals for the examinees.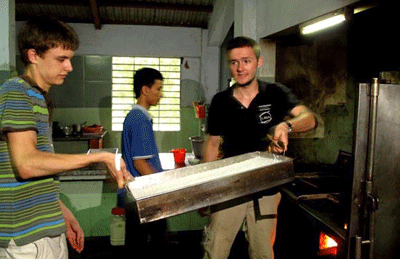 Two French students help as volunteers in preparing meals for university entrance examinees (Photo: SGGP)
Paul Nicaise and Jean Baptiste Lorics, both students of École Superieure de Commerce de la Rochelle in France, assisted monks and Buddhist followers in preparing meals for disadvantaged students and parents who had come from far off regions to Thua Thien-Hue Province to sit for the university entrance examination.
The Thua Thien-Hue Buddhist Church of Vietnam participated in the 'Tiep Suc Mua Thi' ( Support Students in University Entrance Exam) program, by providing 12,000 free meals at the Duc Son Orphanage in Hue City.
In addition, both the French students are currently teaching English and French, drawing and soft skills to disadvantaged children at the orphanage.
They also look after the smaller kids and help in chopping firewood to cook meals for children in the special house.
Paul Nicaise and Jean Baptiste Lorics are very happy to join hands with people to do volunteer work and find it a totally new experience as there is no such work in their country.
They think it is meaningful to do volunteer work and want to return back to Thua Thien-Hue Province with friends next July to participate in such activities.